Leo & Becky: A Zouk Love Story
He is from Rio de Janeiro, Brazil. She is a Kiwi. They met in Brazil. They came, they danced, they conquered our hearts; and it was magical.
Having lived outside of New Zealand for two years, and having to relegate my dance involvement to the bare minimum I needed to maintain my sanity amongst the busy and stressful life in Business School, I wasn't always in touch with the goings on back home in a far flung corner of the world. So, while I've seen the YouTube clips from FIEL and others being shared across the Zouk world, and despite updates from my friend and fellow Zoukoholic about this amazing couple moving to New Zealand, I never expected the same three words to come out of every Zoukeiro and Zoukeira I met from the moment I came home: Leo and Becky.
They have been travelling, teaching and performing around the globe in over 20 countries including Brazil, Austria, Czech Republic, Finland, Russia, Cyprus, Singapore, and Australia and have helped cement New Zealand 's place on the international Zouk map. Soon they will also be in the US teaching and performing at the LA Zouk Congress. For the time being though, they are back in New Zealand, continuing their work to grow Zouk here.
I never trust my ears. So, recently when they had workshops in Auckland, I was determined to meet them see what the deal was for myself. I was intrigued by the allure of their style to many. The aforementioned Zoukoholic helped me contact with Leo about an interview and when she asked me to partner her for a two hour private with Leo and Becky, it was much more than a chance to improve my own dance. I couldn't make the workshops due to work commitments but I made it to the party afterwards where I finally met the couple, and had the pleasure of dancing two songs with Becky. THAT WAS AMAZING!!!!! The way she moves, responds to leads and manages to style without interrupting the lead left me jumping up and down like a little child who had just won a year's supply of chocolate from Cadbury.
The private the next day went beyond my expectations and I learned what my ears had heard was true, that they were not only great dancers and teachers, but also sweet and wonderful people. I just had to learn more about them and share their story.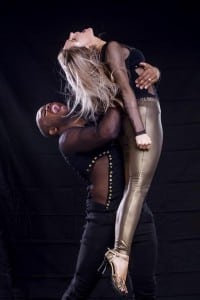 The Beginnings
Leo is originally from Rio de Janeiro, Brazil.
In terms of music and dance, what were you exposed to growing up and do you think this had or have an effect on you in terms of you becoming dancers and your style and energy?
Growing up in Rio, Leo was exposed to many different genres of music that his family listened to. "My family was always listening to different types of songs that I remember until today" he says. His parents loved dancing Samba and Forro and especially Samba left a great impression on little Leo to aspire to be a dancer.
Meanwhile across a couple of countries, the Andes and the Pacific Ocean, Becky was also exposed to different styles of music growing up in New Zealand, as her parents had very different tastes in music. Unlike Leo, Becky was not exposed to dance within her family as a child, although she was to find out later that there were no less than four professional ballet dancers in her family, and she herself had taken ballet lessons when very young. However she had an active childhood with Trampoline and Judo and remembers getting the opportunity to see Gymnastics. At the age of 12 she began studying dance at school which she enjoyed greatly. "We studied many different styles and learnt how to choreograph and pass on the choreography for others to pick it up and perform" she says. Her commitment to growing in dance even then was evident, as she continued "I also travelled by bus or train to a dance school what was about 40mins from where I lived. I would always go by myself it was a big thing for me but I loved RnB dance at the time and this was the closest place." She then studied under Colleen Murray in Christchurch learning Latin styles, which was her first foray into partner dancing since school. She recalls her time Colleen fondly "Each competition she put me into I made a placing with my partner, including one that presented us with an opportunity to travel to Australia to take part in a dance competition on Television."
Back in Rio, eight year old Leo began his dance journey through a social project at his school, CIEP Jose Pedro Valera, when the principal Maria Joao gave the students an opportunity to learn dance. Leo recalls doing many competitions during this time, which he loved and had much fun at with his friends around. At 14 Leo joined Zouk pioneers Renata Pecanha and Adilio Porto's dance school, taking every type of class on offer and training hard to become professional. This hard work came to fruition in the May of 2007 when Leo competed in a mixed style category at the INFOK dance congress competition, placing first with Zouk, although participation itself came as a surprise to him.
"To tell you the truth I didn't know that I was competing. Renata told me after she registered me to participate in the competition" he says laughing. Sometime following this his first professional Zouk competition was Onda Zouk, where he also placed first.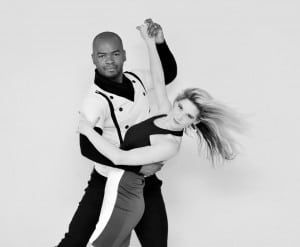 The Zouk Journey
For both Leo and Becky, their affair with Zouk was an instance of love at first sight. Leo fell in love with Zouk since the first moment when he saw Renata and Adilio dance, an experience many, including us, can relate to, myself being hopelessly addicted at the end of my first Zouk class. He considers Renata, Adilio, Alvaro Reys and Rachel Mesquita as his biggest influences and teachers.
For Becky, it was seeing Ruanita's beautiful flowing movements as she danced with Mafie Zouker, and the versatility of the dance –
"I love that Zouk is so diverse that you can adapt it to different music and that each person can put their own personality into it"
Leo met Becky when she travelled to Brazil, and both had dance partners before they began working together. Becky was just delving into Zouk at this time and says Leo taught her much, starting from the basics and focusing only on this in the first year; "now I love going back to that always." She is quick to stress the importance of focusing on basics to reaching where she is today –
"It really helped me to understand everything that I know today, and how I can help my students. Taking the time to really learn how to do something properly is really worth it"
Leo has been Becky's biggest influence and she is grateful for the immense time and energy that has gone into their partnership. Some things however, she explains must come from within:
"I have learnt everything that I know from a man so all the feminine extras such as styling had to come personally from my feelings and expressions"
Leo explains that the first thing one must do is focus to on what they want. Then they must commit, not only taking classes for six months but until they perfect their dance, for years until they are ready to teach or perform –
"It's the same as Studying to be a professional in any career, you don't only attend school for six months and then get a degree"
They both add the importance of respect during this learning process and afterwards, and says that training hard with their partners, keeping an open mind and having the right attitude is what helped them get to where they are today:
"One of the most Principal elements is Respect for your Teachers, your friends and other professionals, even if they are NOT your Teachers"
For Leo the first opportunity to teach came from his own teachers. When Renata and Adilio was invited to give Zouk classes overseas Leo was asked to cover. He agreed and passed on everything he had learned, and recalls enjoying the experience very much, but looking forward to becoming a student again when the teachers returned. In fact, after Adilio and Renata returned they handed one class over to Leo, after which other opportunities to teach also came. Leo says that a teacher needs to train the students to dance in a safe way and for this the teacher must really know what they are talking about. This is a challenge but the rewards are worth it:
"The biggest reward for us is to see our students happy and enjoying what they have learned, like when you teach a student to dance who has never had any dance experience before or when you help a student with difficulties to understand a movement – that it is the best Reward."
Influences and the Leo and Becky Brand
As dancers and students we tend to find a uniqueness in each instructor's style and associate that style with that instructor. Depending on whose style or mixture of styles we find most compatible with our own personality we tend to align ourselves as a follower of an instructor, or group of instructors. Leo and Becky are no different and many of us see their style as very unique and flavorful, however they insist that their style is just Brazilian Zouk:
"Everybody does the same basic, the same head movements, the only difference being that some people like different styles of songs. But that doesn't mean they have a different style of Zouk, they are just interpreting the song differently"
When asked about influences of other genres on their style, they explain that there isn't any specific influence per se, but that they use the different options available in the (rhythms of) different songs to do movements with musicality.
Becky identifies the couple's biggest strength as their ability to be creative with body movements. This is one of the reasons why they created the 'Three Points of Manipulation' to make it easier for dancers to learn and understand how to lead and follow body movement correctly.
At this point I get a little cheeky and ask them what is more challenging, a dance partnership or a marriage? Leo and Becky are straight forward in their answer:
"Dance partnership! You never know how your partner's mind could change from what each person wants. For example – I want to be a Dancer for all my life and my partner could just change their mind and say, "ok I don't want to dance anymore!" With a marriage it is for life. There are always challenges in both but you approach each one as it comes and always separately. Work is work and Personal is personal"
Highlights
There are already many highlights in Leo and Becky's partnership which only began in early 2013, but it is 'Brazouka' that they rank most highly. They toured with Brazouka until it ended this January (2015), but are already looking forward to the next milestone.
'Being part of 'Brazouka' live on stage was an incredible experience' Becky says. "Now that it is finished we are focusing on opening our own dance academy here in New Zealand."
It has certainly proved to be a challenge and while they have made some headway they acknowledge there are many more obstacles ahead. The couple is typically optimistic though:
"We are so proud to have our own building…we are sure we can make this dream a reality"
Impression of the Zouk Scene in New Zealand
The couple moved to Christchurch, New Zealand since it was Becky's native land, and Leo explains that from his first visit to the country he felt comfortable, and as if they were meant to be there. He adds
"New Zealand is a beautiful country and we are happy to be here and call it home"
Leo and Becky are excited about the spread of Zouk in the country and believe it has grown much since 2010 as it has all over the world, with many more people attending parties as well as classes and workshops. They are particularly impressed about the great attitude and passion shown by the Zouk community of Christchurch to grow the scene in their hometown and learn from professionals, and say they are happy to be teaching there.
"The Christchurch scene seems to be smaller than the Auckland scene but in saying that the Christchurch people are working together to spread Zouk in a very passionate way. There is a nonprofit group of dancers in Christchurch who put together an organization called NZouk to bring a lot of International and National Artists to New Zealand"
What is Next?
So what is next on the 'to do' list of this amazing couple who have been making waves in the Zouk scene from Europe to Australasia?
"Our plan is to open our own Dance Academy ´Brazilian Beatz´" say the couple. "It will be the home of Brazilian dance and hopefully fill it with a lot of people who are passionate about dancing."
Advice to New Zoukers
Leo and Becky has this to say to new Zoukers:
"It is really important for new Zoukers to be safe so we always tell them to go over the Basics in our dance. This is something that is Important to all people, even those dancers who have experience but are new to Zouk."
They stress the importance of this for dancers' wellbeing, adding "We highly recommend this because Zouk has a lot of movement where the head, neck and spine is involved, so it is important for the Leaders and Followers to be careful. No matter what level you reach, it is always great to go back to the basics; we always do."
Take heed, be solid with your basics, train hard and make sure to go to a congress near you; who knows, Leo and Becky might just be there!
Quick Facts
Favorite Zouk Track: WE LOVE ALL!!!
Favorite Zouk Congresses: Dutch Zouk and West Zouk Time
Best Congress to Social Dance In: Helsinki Zouk Festival
Photography by Leo and Becky Neves Batista, and Fabio Cordeiro
Video courtesy of Felipe Baez.
About: Danidu Wijekoon
You may also like...
Sorry - Comments are closed
Allan Z ft Ficci – Senses Overload (ft. Laura Hahn) Remix