My 1st Time at the Dutch Zouk Congress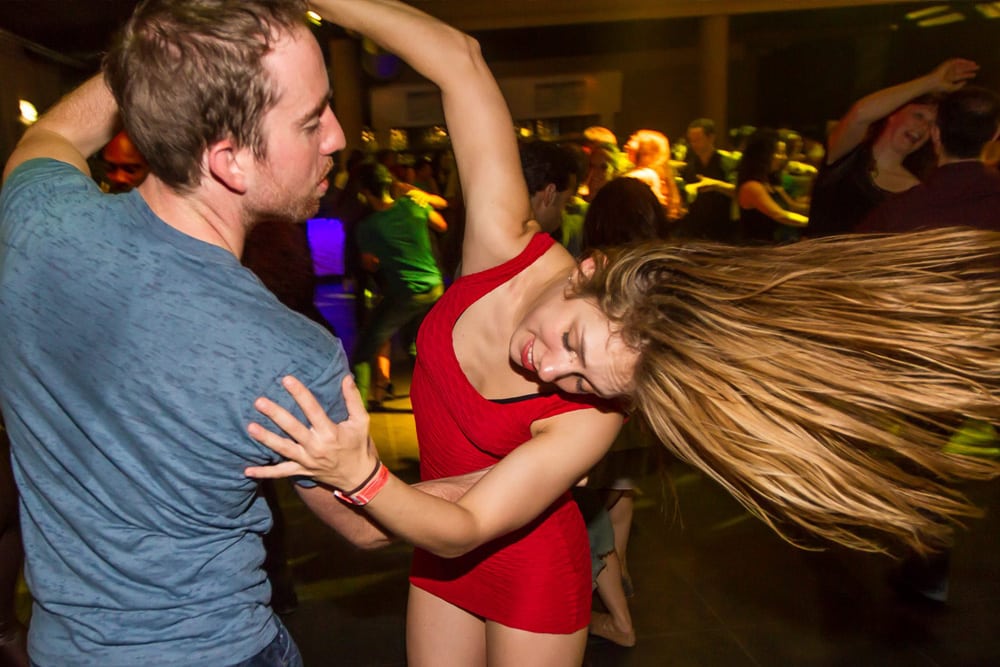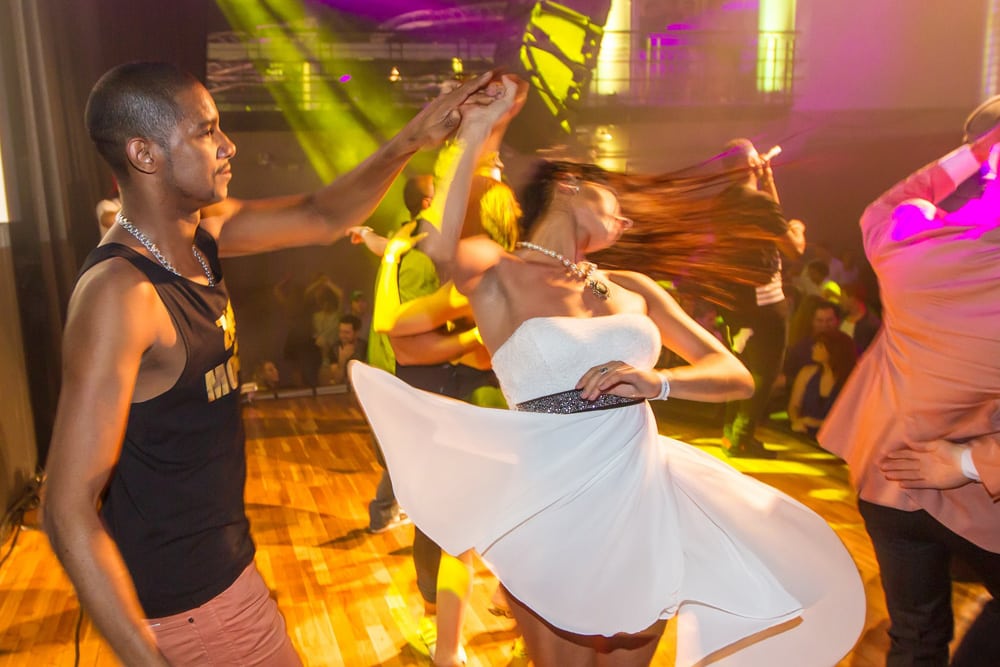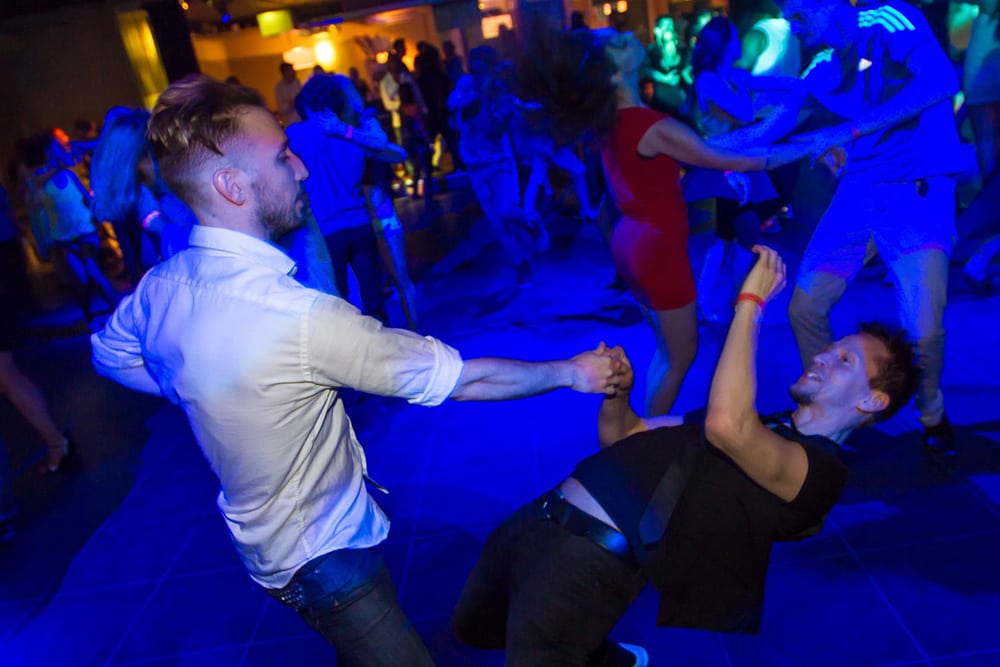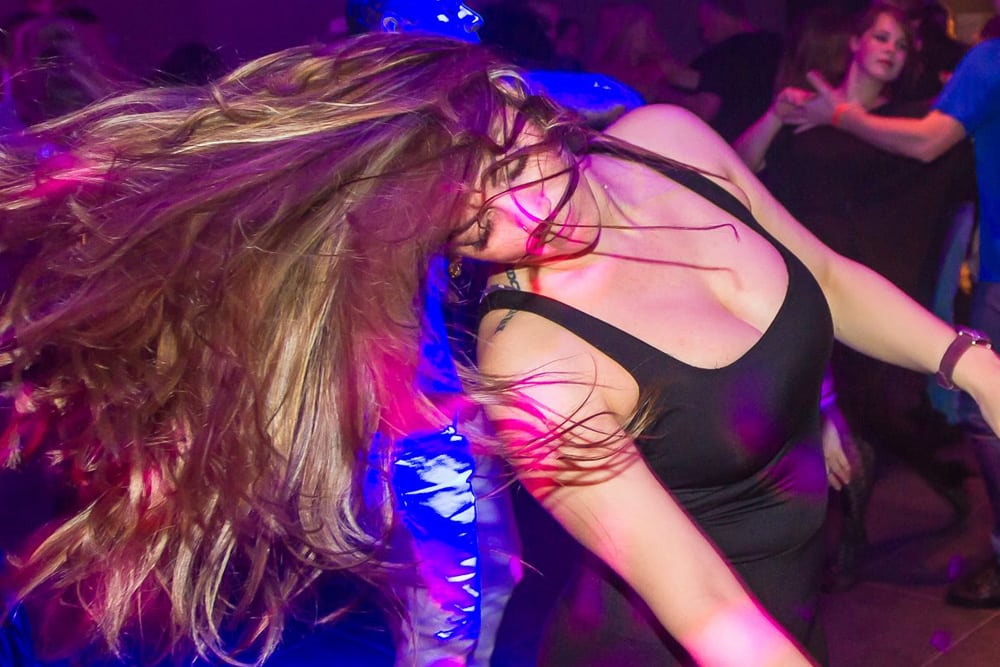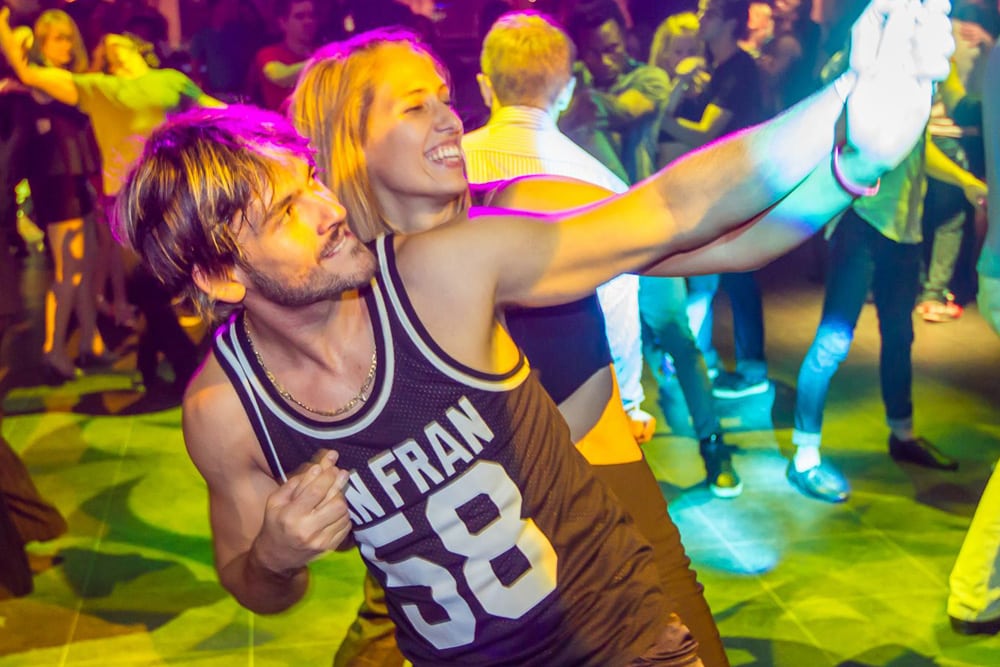 (texto abaixo em português)
This year I had the pleasure to take part in the Dutch Zouk Congress in Breda (Holland) for the first time. I had heard a lot of great things about this event but had never had the opportunity to actually go there.  I was even more excited, because I was invited to teach and perform with my actual dance partner in Zouk – Kamacho.
I have never seen so many great artists in one place. There were Zouk teachers from everywhere who came to share their knowledge and experience. They did amazing performances and enjoyed their time with students during one week of workshops and parties.
Everything started on Wednesday the 22nd of October and lasted one entire week! Yes, you heard me correctly – one full week of workshops with the best Zouk dancers and teachers from around the world and 8 really hot parties!
Studio 76 was the place where the workshops were held. It was a nice, huge venue that gave the organizers the possibility to make two different dance floors during the parties and 5 different rooms for workshops during the day, which were always full of dancers!
It´s incredible how many great teachers Adam Dadoo and Claudia van de Velde were able to book for the event. The students had the chance to take classes with: Renata Peçahna and Jorge Peres, Adilio Porto and Krisztina, Kadu and Larissa, Fredy and Andressa, Arkkanjo, Mafie Zoueker and Anna, Pasty, Xandy and Evelyn, Alex de Carvalho, Olaya and Papagaio, Mr Dragon and  Bruna Sousa, Xavi and Laura, Daniel and Leticia, Leo and Becky, Dadinho and Kelly, Kamacho and Janna, Abdel, Adam and Claudia, Marcelo Bal, Solange, Junior Caravlho, Ruanita, Sofie and Luciano, Willem and Jolien and more.  I think they made it very difficult for the students to choose which workshops they wanted to do.
I have to say, that the energy in the classes was amazing. I´m always very touched when I see so many people from all over the world united by dance.  It´s a great feeling to see how students appreciate our work and believe in what we do.
I can´t find the right words to describe how much I enjoyed the parties. Thanks to the best djs in the world, the music was awesome! Arkkanjo, Allan Z, DJ Freddy, Mafie Zouker, DJ Shing, DJ Remon, DJ G-Zouk and many others were playing for us the entire night.  On Saturday night, there was also a famous artists from Portugal called, " Too Much, " who gave a great performance! I think I had some of the best dances of my life that week! I met so many people and had so much fun with them. I really felt that we had created one big Zouk family! I'm happy to see how Zouk in Europe is constantly growing!
I always like to talk to students to know their opinions about the congresses and I have to say that I heard only great things regarding this one. Most of them told me that it was the best congress they had ever been too and I really believe them!
The organizers did a great job. This event was incredible and had so many attendees that Adam and Claudia will probably be obligated to find an even bigger location to accommodate all the people that are planning to come next year!
For me the Dutch Zouk Congress is one of the best Zouk events in Europe without a doubt and I hope to be there again next year!
---
Minha primeira vez no congresso nacional de Zouk na Holanda
Este ano eu tive o prazer de fazer parte do Congresso Holandês de Zouk em Breda (Holanda) pela primeira vez. Eu tenho ouvido muitas coisas boas sobre o este evento, mas nunca tive a oportunidade de realmente comparecer. Eu estava ainda mais empolgada*, por que eu fui convidada a dar aula e me apresentar com meu atual parceiro de dança Zouk – Kamacho.
Eu nunca havia visto tantos excelentes artistas em um mesmo lugar. Haviam professores de Zouk de todos os lugares que vieram compartilhar seus conhecimentos e experiências. Eles fizeram apresentações maravilhosas e aproveitaram seu tempo com estudantes durante uma semana de workshops e festas.
Tudo começou na quarta-feira 22 de outubro e durou uma semana inteira! Sim, você me ouviu direito – uma semana inteira de workshops com os melhores dançarinos e professores de Zouk do mundo todo e 8 festas calorosas!
Studio 76 era o lugar onde eram dados os workshops. Era um local grande e agradável, que deu aos organizadores a possibilidade de fazer duas pistas de dança diferentes durante as festas e cinco salas para os workshops durante o dia, que estavam sempre cheios de dançarinos!
É incrível como tantos ótimos professores como Adam Dadoo e Claudia van de Velde estavam disponíveis para o evento. Os estudantes tiveram a chance de ter aulas com: Renata Peçanha e Jorge Peres, Adílio Porto e Krisztina, Kadu e Larissa, Fredy e Andressa, Arkkanjo, Mafie Zoueker e Anna, Pasty, Xandy e Evelyn, Alex de Carvalho, Olaya e Papagaio, Mr Dragon e Bruna Sousa, Xavi e Laura, Daniel e Leticia, Leo e Becky, Dadinho e Kelly, Kamacho e Janna, Abdel, Adam e Claudia, Marcelo Bal, Solange. Junior Carvalho, Ruanita, Sofie e Luciano, Willem e Jolien e muitos outros. Eu acho que eles tornaram muito difícil para os estudantes decidirem quais workshops queriam fazer.
Eu tenho que dizer que a energia nas classes era maravilhosa. Eu sou sempre tocado quando vejo tantas pessoas de várias partes do mundo unidas pela dança. É um sentimento ótimo ver quantos estudantes apreciam o nosso trabalho e acreditam no que fazemos.
Eu não consigo achar as palavras corretas para descrever o quanto eu aproveitei as festas. Graças aos melhores djs do mundo, a musica estava demais! Arkkanjo, Allan Z, DJ Freddy, Mafie Zouker, DJ Shing, DJ Remon, DJ G- Zouk e muitos outros estiveram tocando para nós a noite inteira. No sábado a noite, havia também um artista famoso de Portugal chamado, "Too Much", que nos deu uma ótima performance! Acho que tive algumas das melhores danças da minha vida naquela semana! Eu conheci muitas pessoas e me diverti muito com eles. Eu realmente senti que nós criamos uma grande família do Zouk! Estou feliz em ver como o Zouk está crescendo constantemente na Europa!
Eu sempre gosto de falar com os estudantes para saber sua opinião sobre o congresso e devo dizer que eu só ouvi coisas boas em relação a este. A maioria deles também me disse que este foi o melhor congresso do qual eles participaram e eu realmente acredito neles!
Os organizadores fizeram um ótimo trabalho. Este evento foi incrível e teve muitos participantes que Adam e Claudia provavelmente serão obrigados a encontrar um lugar maior ainda para acomodar todas as pessoas que estão planejando vir no próximo ano!
Para mim o Congresso Holandês de Zouk é um dos melhores eventos de Zouk na Europa sem dúvida, e espero estar lá novamente no próximo ano!
Translation: Priscila Souza
Photo Credit:  Berg Chabot
You may also like...
Sorry - Comments are closed
Allan Z ft Ficci – Senses Overload (ft. Laura Hahn) Remix