Larissa Thayane's Zouk Life And Her New Project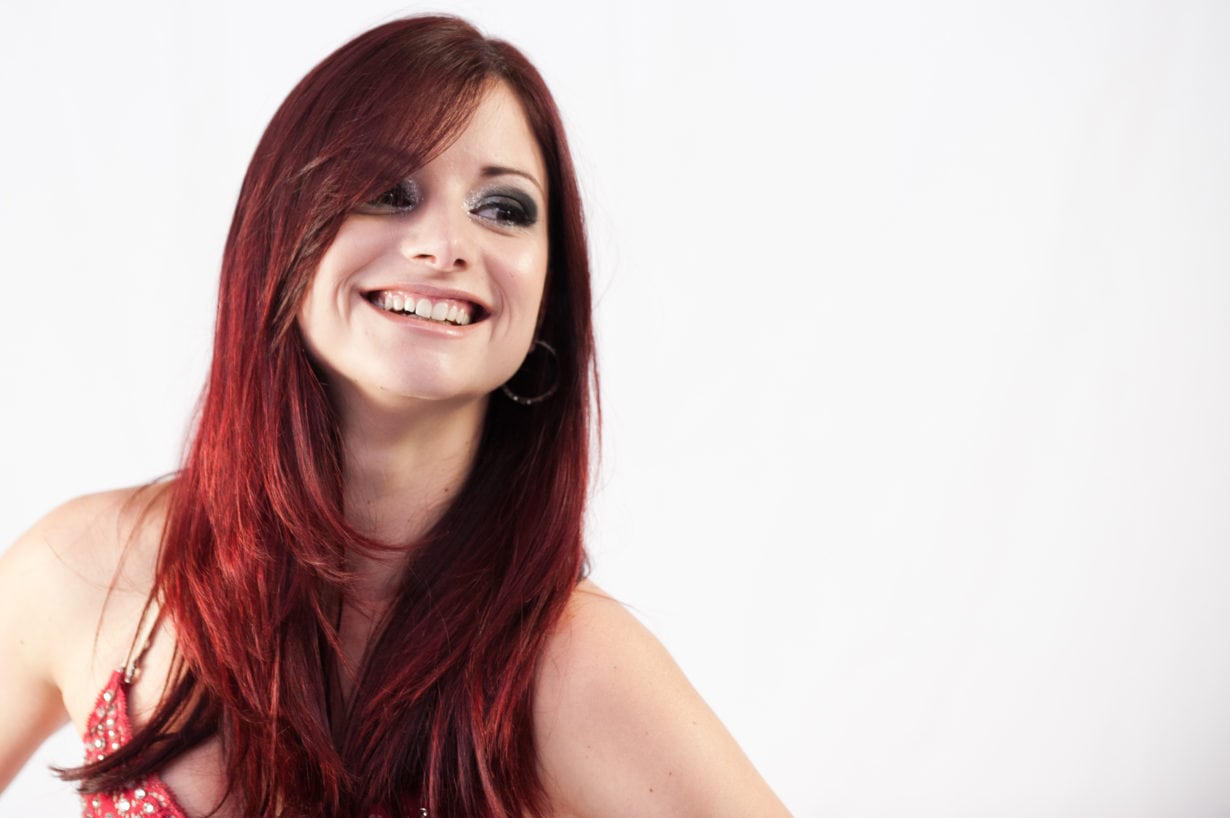 20 minutes before boarding a plane to LA for the West Coast Swing US Open and to judge at the World Latin Dance Cup in Miami, Larissa took a few minutes to answer some of these questions for me. I have yet to even meet her in person but the sound of her voice and quick responses to all of my messages let's me know that her fame is about more than just her dancing. I'm not sure how she does it, but her organization skills seem to be impressive. She responded to every message I sent in a timely manner, showing me that she is able to balance her dancing career while constantly traveling around the world.
In this exclusive interview, she tells us about when she first moved to Australia, about her relationship with Kadu, her dance partner of almost 10 years, and about a new project she is creating that will help change Brazilian Zouk as we know it. Her perfect English, and ability to express her passion in a clear and concise manner tells me that she is an educated, confidant, yet endearing woman. Her professionalism shows me that this new organization she is creating will definitely go far, since she seems like the kind of woman that makes things happen.
Why did you decide to move to Australia and did Zouk already exist there?
Kadu and I were invited to come to Australia in 2006 for a two month tour with a friend who had a company that did Brazilian shows like Samba no pé, capoeira, etc. Brazilian Fantasy was the company that he had in Sydney. Marcos Moran and Alexis Mesa from Viva magazine in Sydney were the ones who made it possible and got us into performing at different Salsa Events.
We then went to Brisbane and met Tarcisio Teatini-Climaco. Tarcisio ran a Brazilian Dance School that had been open for the past 12 years already. He was also originally one of the people who had helped us get involved with the tour. We spent 10 days at his school, Rio Rhythmics, in Brisbane teaching workshops and performing in his events. So, yes, Zouk already existed in Brisbane, but the level was different than what we were used to in Brazil and not many people were involved. The style was a bit older as well, since Tarcisio was only travel to Brazil yearly to study and bring back material to Australia.
In Sydney there is an academy called Latin Dance Australia. They had Zouk classes, but also below the level of teaching and dancing in Brazil. That is how we found the Zouk scene here for the first time. It wasn't as strong as it could have been and wasn't very popular as a result.
After this tour Tarcisio invited us to move to Australia indefinitely to work with him because he needed help for his academy that was growing. So in July 2007, we decided to move. We got a 4-year working visa with him and we started teaching at Rio Rhythmics full time and performing in different events throughout Australia and New Zealand.
What influences have you brought to Brazilian Zouk in Australia?
We were able to perform in very large Salsa events like the Sydney Salsa Congress, which can draw up to 3000 attendees at their Saturday night show. Performing at events like this opened a lot of doors for us and helped promote Zouk. People from other states in Australia and other countries like New Zealand, Singapore, Malaysia, China, Japan who had come for that event, were able to see Brazilian Zouk in a different way.
I guess the level of our Brazilian Zouk shows were higher, so it got people's attention and interest in learning more about this dance. We were also able to improve the level of the dance at Rio Rhythmics, which helped spread the word as well.
Has the population of Zouk dancers grown since you've moved there?
Yes, the Zouk scene has grown a lot since we moved to Australia. We have been in the country for the last seven years now and it definitely has evolved. In the beginning, there were only Salsa events throughout Australia. Now, they realized that every dancer also dances Zouk and other dance styles. So most Salsa congresses in Australia now have a Zouk room. Many have also changed their names from being just Salsa Dance Congress to Latin Dance Congress (or Festivals). So for instance, the Sydney Salsa Congress is now called the Sydney Latin Festival and it has a room for Salsa, a room for Bachata and a room for Brazilian Zouk in which they also play Samba for Samba no pé and Samba de Gafieira lovers.
How would you describe your style and how is it different from other Zouk Dancers?
Our style is the Traditional Brazilian Zouk style. We dance the same style as: Adilio Porto, Renata Peçanha, Jorge Perez, Alex De Carvalho, Carlos da Silva and others. Of course everybody is different so you adapt some movements to your body. It can look a little different depending on who is dancing, but it's still the same foundation, and a similar way of teaching, leading and dancing. Other dancers such as: Mafie Zouker, Bruno Arkanjo, Dadinho, Bruno and Eglantine and many others dance a more Stylized Zouk, some call Neo Zouk with different interpretation of the music, variations of the basic, counterbalance, body torsions, variations of the traditional Brazilian Zouk movements and other characteristics.
I know you and Kadu were once in a relationship. How have you two managed to continue working together and how are things now that you are both in your own relationships? 
Kadu and I were a couple for three years while we were dancing together. When we moved to Australia we were still together, but it didn't work out. However our priority has always been our work. We knew that to do great work in our field we needed to stay together and so we really worked on that. It wasn't easy, especially the first year when we broke up. We almost gave up many times, but our career was our priority, it's our passion, so we knew that we had to be strong and get through it.
So now, Kadu is married and I have a fiancé and it works really well. We are like brothers, we take care of each other, we work together, and we understand and respect each other. We still fight, of course, like any relationship, but now we are able to separate work from our personal life. We know each other very well and I think that's what makes it work. Next year we will be celebrating 10 years dancing together, which means a lot to us.
What advice can you give to other dance couples who have once been in  a relationship but later chose to no longer be together?
I think that sometimes couples don't try as hard as they could. They give up too easily on each other, but you need to fight through it. Time will help you forgive each other for what happened and if your priority is your dance together, then you will work on it. But if that's not your priority then it will be hard to make it work. Of course, it also depends on the reason and every couple has a different reason to end a relationship. The advice I can give is to talk about what each other's priorities are. Knowing that if they break up they need to deal with the consequences. For example, their work would have to end since they are no longer dancing together. It's not easy. You need to be very patient and you need to learn to respect each other. It is challenging, but it is possible. Other couples have done it and their work together is even stronger.
Can you tell us about your involvement with West Coast Swing, (we've noticed you've been participating and competing)?
Kadu and I were introduced to West Coast Swing in 2009 when we met Jordan Frisbee and Tatiana Mollmann. After that we were invited to teach and perform Brazilian Zouk at some WCS events so we got the opportunity to watch the WCS Jack & Jill competitions which we loved and later we decided to compete. We still have lots of fun in every competition we are able to participate in.
We also felt that to be able to organize the Jack & Jill for the Brazilian Zouk scene, we needed to be more involved and compete ourselves to have the experience of how it all works.
What inspired you to start the Brazilian Zouk Dance Council? Can you tell us a bit about it? 
We started getting involved with the West Coast Swing community and we started to understand how their dancing world worked. I was going to WCS events around Australia, US and Europe and I appreciate and respect how organized those events were. People were so interested in learning more, improving their foundation, dancing properly, joining social dancing and also attending workshops. They were also interested in doing many private classes as well as group classes.
Something that many teachers in Brazilian Zouk have been discussing for some time now is that students are not interested in doing group or private classes. They only want to do event workshops and sometimes, not even that, only social dancing. Now, you can learn a movement in a workshop but you won't perfect it. This creates bad habits, bad leaders and bad followers. Also, there are many events created by many different people who are not well organized or informed so the quality of the event is not as good. We wanted to fix all of these issues.
It was in 2013 when a friend of ours, Guilherme Abilhoa, a dancer and event organizer from Florianopolis, Brazil came up with the idea of creating a similar structure for Brazilian Zouk. We found the whole idea very interesting and saw the benefits of it. We thought that the Brazilian Zouk scene was missing an organizational body so we decided to put the whole idea into action.
Inspired by the World Swing Dance Council (WSDC), we decided to create the Brazilian Zouk Dance Council (BZDC) which not only hosts the Jack & Jill competitions, but also educates and informs Brazilian Zouk lovers around the world.
The Brazilian Dance Zouk Council also gives the event organizers all the information they need to create a more organized event and guidelines to host the Brazilian Zouk Jack & Jill competitions.
The Brazilian Zouk Dance Council, formed in 2014, serves, supports and promotes all aspects of Brazilian Zouk and encourages the growth of the dance throughout the World. The Council is designed to improve communications and provide informational services and record keeping for the Brazilian Zouk Community.
The Council:
Promotes the growth of Brazilian Zouk to the general public
Provides a central place for information for dancers, clubs, promoters, organizers, teachers, judges, competitors and interested parties
Maintains a global website
Maintains a competitors registry showing placements from all major events, with points accumulated for each competitor
Maintains a Members Registry for communication between members
Maintains an Instructors Registry with a listing of dance instructors that are members of the BZDC in good standing
Coordinates and maintains a global calendar listing of dates and locations that allows for better planning for organizers and those who plan to participate
Can you explain why Jack & Jill's are important and why we should get involved with them?
The Jack & Jill is a competition, but it's a competition based on social dancing. You don't need to choreograph a routine with one partner. You don't need to even have a partner, you just need to join the competition and have 3 dances with 3 different partners to 3 different songs. The judges, will give you scores based on your social dancing skills. The participants will have their names registered with the council and will collect points as they move up the different levels. The goal is to get closer to the finals and hopefully make it to the top 5.
All judges are registered with the BZDC so they are aware of the rules and what they are looking for in each category such as Novice, Intermediate or Advanced. We are asking teachers from different countries to join the competition, start accumulating their points and also help promote by joining it. It's a great way for participants to know what they need to improve in their social dance. Getting them to improve will also prevent injuries and accidents on the dance floor.
We have already had our first Jack & Jill events in Australia at Casa do Zouk 2014 and in Malaysia at Zouk S.E.A 2014 and we had great response and feedback from all participants. They had a lot of fun, collected their points, and are now really interested and excited to compete again. It is pretty addicting. We also noticed that after those competitions, the participants were interested in doing more private classes, which shows their interest in improving. We have had great result so far and we believe the BZDC will quickly grow around the world.
Check out the Brazilian Zouk Council website by clicking the link below: 
Photography by: Jadon Smith
Tags AustraliaBrazilian Zouk CouncilBrisbaneCompetitionsJack & JillkaduLarissaSydneyWest Coast Swingzouk
About: Jessica Carro
You may also like...
Sorry - Comments are closed
Allan Z ft Ficci – Senses Overload (ft. Laura Hahn) Remix