The Magic of Zouk at the New Zealand Salsa Congress
The Magic of Zouk at the New Zealand Salsa Congress – A Congress Within a Congress
This is a Zouk magazine, so why am I writing about a Salsa congress, you may ask.
Good Question. Let me take you to the Zouk cave. Literally, it is a large, misty dark room where you can only see shadows but where Zouk music reigns supreme every night – sometimes for longer than the Salsa, Bachata and other Latin tunes in the main party space. During each day, the Brazilian room on the opposite side of the Te Whea New Zealand National Dance and Drama Centre is where avid dancers from around New Zealand, Australia and the Pacific get treated exclusively to Zouk and Samba De Gafieira. Welcome to the New Zealand Salsa Congress (NZSC) which is held in Wellington, New Zealand for four days and five nights over the Queen's Birthday long weekend (typically first weekend of June).
Here in New Zealand, far, far away from the glitz of the Latin dance scenes of Los Angeles and New York, the exotic allure of Porto Seguro, and Rio, or the excitement of the many Zouk and other dance festivals in Europe, the NZSC is the premier internationally recognized multi-genre dance congress.  In recent years, several other festivals have taken root around the country but are yet to match the NZSC in scale, international presence or diversity of instructors, performers and participants.
Not surprising given that New Zealand has only 4 million people (not all of whom are dancers, or hobbits), 55 million sheep (some of whom maybe dancers but never attend festivals except on a plate), and is basically far removed from anywhere else except maybe the South Eastern part of Australia. Therefore, it makes sense that this congress incorporates all styles and caters to the diverse tastes that persist within the New Zealand Latin dance community.  Zouk (being one of the three main Latin/Lusophone styles danced in New Zealand) is thus heavily featured at the congress, and has been for a while. In fact, the story goes that it was a performance by Kadu and Larissa several years ago that first got New Zealand's dance community talking about this "scandalous" dance that everybody secretly craved.
De Ja Vu
On a personal level the NZSC of 2012 was my first dance congress. Back then it was a new and overwhelming experience that I didn't fully take in and probably didn't make full use of as I didn't stay for the final night. Having travelled and danced around US and Latin America, and having attended some of the essentially non-stop US congresses, I was weary of how much I would enjoy this event (that did actually stop between 4 am and 10 am) considering I had evolved as a dancer.
Someone with such experiences and resulting high expectations of a dance congress may make the assumption, if they didn't  know any better, that the difference between a congress in the US and in little New Zealand may be akin to that between a big city Mardi Gras to a small town fair. Given my past experience of NZSC was a long time ago, when I viewed dance with a different lens, I could have been that person.
While I was considering whether I should attend or not, a good friend that was heavily involved in organizing the event asked me to help out, in return for the free pass. I dug deep and thought back to a few of my surviving memories of 2012:
Performing in front of 200+ people on opening night, everything going smoothly until a fuse blew out, only to have the replacement also blow out less than a minute into the second attempt… Yeah Nah (In New Zealand English, this means yes I have considered this and the answer is NO);
Being kicked in the privates (accidently!) during an aerial trick on the third attempt and almost dropping my partner on her head…Yeah Nah;
Dancing with Paloma Alves, with no waiting in queue because I happened to arrive at the Zouk room early and she happened to be there enjoying sushi, that being an indescribably magical dance, making me exclaim "oh my God I'm so happy" afterward, and have her reply "I'm so happy too!"…Yeah…Yeah… Yesss!
"Hmmm, I actually had some fun that time, so why not," I thought. Also, after working to convince the organizers to invite Ivo and Shani over, what would they think if I don't turn up?
So off I went to Windy Wellington, the capital of New Zealand, which in the words of a certain anonymous Zouk diva looks like a nice little theme park.
I have to say, I had an amazing time. It brought me back to a time when I wasn't teaching (or trying to, rather), competing, or running my own Zouk events, or writing about Zouk for that matter – and it reminded me of the fun I had just dancing. I remembered how I felt flabbergasted trying to understand an intricate turn pattern that Alisson and Audrey (from Perth) were trying to teach, experiencing the true essence of musicality with my eyes closed in a workshop taught by William and Paloma, and of course dancing with Paloma Alves.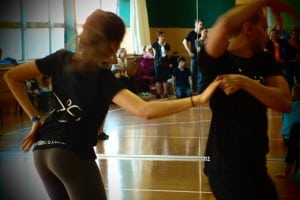 Dharsh and Shantini demonstrating at the first workshop at NZSC2015
Damn! Of course none of them were there this time, but Ivo and Shani were, as were Leo and Becky – current stars of the Zouk world, but who we're lucky enough to call local instructors. Then, who can forget Dharsh and Shantini, the up and coming Zouk instructors from Auckland. There were also many local and International artists representing other genres such as Jennifer Silva (CA, USA), Jamie Jesus (Australia), Sharon Pakir (Australia), and Sergio and Gaby of Alma Latina fame (Tijuana, Mexico). In terms of the calibre of teachers, the NZSC is not lacking in any way.
A Mini Zouk Congress Within a Salsa Congress
The diversity of genres available mean that if one was to get bored of their chosen style, there are many other dance styles to choose from, with world class instructors. Also, with the advent of Bachatango, Zoukchata, KiZouk and other fusions, as well as the need to evolve one's technique and expand their portfolio of moves, dancers today need to learn and adapt from multiple styles. From this perspective the diversity of styles along with the pedigree of the instructors across all the styles was very useful. While I am no longer focusing on Salsa, the congress gave me the chance to learn Pechanga, as well as practice my Cha Cha and Bachata footwork, all of which has musicality elements that I can and will use to evolve my Zouk. Then of course, there was Kizomba, Samba De Gafieira (which I love dancing), Samba No Pe (which I love watching), Reggaeton as well as multiple styles of Salsa and Bachata. This year was the first time that Kizomba featured, and it is likely to remain a mainstay given that style's growth in New Zealand.
Of course, apart from a few planned excursions aimed at improving my Zouk, I barely left the Brazilian room. As Saione Greer, the organizer if the NZSG put it, it is almost as if there was a Brazilian festival within the Salsa congress, with a dedicated room and party space for Zouk and Samba. For these two styles as well as Kizomba, there was a good range of workshops catering to all levels and covering movements, fusions, musicality and technique.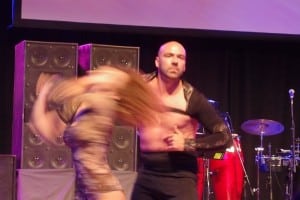 Ivo and Shani Performing at NZSC 2015
My favourite workshop among all of this was the Zouk – Kizomba fusion workshop by Shani and Ivo. Why? I've said before that personally, the beauty in dance and the philosophy that guides my dance is feeling the music, and working with my partner with her as the brush to convert sound into movement and paint the song on the dance floor, in the process making her (it is usually a 'her') feel like the music is written for her. Now this is hard, and most of the time I fall pathetically short of it. However I am working hard at it, and it helps me when I can read the music well, and know what it speaks, so that I may translate that. The fact is, some songs speak Kizomba to me, some Speak Rio Zouk (traditional), some speak gibberish, some speak Lambazouk, and some speak modern and some starts with Rio, with Kizomba in the middle, some Lambazouk, a bit of hip-hop and end with Rio again. I am fortunate to be able to dance at least a bit of all those styles, but it's the transitions that really make or break the dance, especially given the partner must understand the gear shift, since each style /genre has a different lead. So this workshop was very useful in learning how to shift those gears swiftly.
The Parties
As with any congress the best thing about the NZSC are the parties. The pre-party was essentially a Salsa and Bachata party, held by the local dance community in the middle of downtown Wellington. But three main parties of the congress (Friday, Saturday and Sunday) had a very lively Zouk room as well as the main Latin room playing Salsa, Bachata, Cha Cha, etc. – both packed with the best dancers from around New Zealand, Australia and beyond. All three parties had the best Zouk DJs from around New Zealand and Australia as well as stars like Leo Batista and Ivo Vieira.
We may be a small country, but Kiwis (and the visiting Aussies) do know how to party. The floor was not perfect, and the parties may not have lasted till 8 am, but given the strong Zouk community of Australia and New Zealand, there was a lot of skill and beauty in motion on display. Add to this the warmth and friendliness of the people down under, and it was a great place to be.
The additional benefit was that when you wanted a change of pace, you could merely go out for a few Salsa and Bachata numbers before returning to KiZouk bliss, which always helps keep things interesting.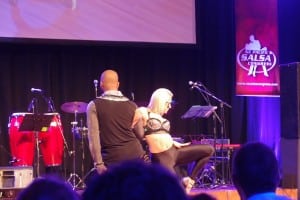 Leo and Becky ready to Perform at NZSC 2015
Of course there were disappointments too. My driving duties meant I only caught the first 2-3 songs and the last 30 minutes of the Neon themed Saturday night party, the main party of the congress. In a way, given I didn't have any neon to wear, I would have been invisible in the fog and the dark, but how I would have loved to be one of those neon figures lighting up the dark Zouk cave. It was like a scene from Tron. Just imagine…Tron ZOUK!!!
Also, it turned out that the Sunday party, when the artists are done teaching and performing and just want to have fun, was the best party of the weekend.  After missing out on Saturday, all I can say is that I danced until I dropped, literally. My best moment that night was dancing Zouk with Gaby Equiz Jasso; yes Gaby as in the Bachata superstar and co-founder of Alma Latina. Turned out she dances Zouk and it was great fun. I had absolutely dreamy dances with Beck Neves, Shani Mayer and a few of my local favorites, but this dance tops the list since it was an unexpected surprise, in the nicest possible way.
I hate flying into Wellington. On the Friday after the congress weekend I flew back to Wellington for a day of business meetings. I hated every second of the flight, except the amusing bird's eye view of beautiful snow-capped Mount Taranaki sitting right in the middle of a perfectly circular and green Egmont National park, which made it resemble something I love but shouldn't mention. The reason is the cross wind, which makes it a rather bouncy landing which is not pleasant when you have motion sickness. However I've never hated flying out of Wellington – when the winds don't affect you much and you can instead take in the beautiful view of the Cook Straits – except when I was leaving Wellington on Queen's Birthday Monday, after an amazing weekend at NZSC 2015. No amount of extra snacks could drown the nostalgia of a magical weekend past in a sea of sugar. Oh well, there is always next year!
Getting There
If you do plan to check out the NZSC, remember that New Zealand is one of the most beautiful and environmentally unique countries in the world, and one of the most popular tourist destinations. Also, it is so far from practically anywhere (hence the unique natural beauty with furry flightless birds and no snakes) and you probably won't come here often. So it is a good idea to plan it as a broader trip in order to make the most of your visit.  Auckland, Christ Church and Wellington are the international hubs, although the latter only really serve international flights to and from Australia, while Christchurch serves Australia, Fiji, Thailand, Singapore, Taiwan and Dubai (via Bangkok). So depending on if you want to visit Australia as part of the same trip, or will be flying through Dubai, Bangkok or Singapore and want to do a South Island tour (a must because the South Island is indescribably beautiful), then Christchurch or Wellington may be options.
Most people however tend to travel through Auckland, New Zealand's biggest city. There are regular flights connecting with Asia, Middle East and Europe through Singapore, Hong Kong, Malaysia, and Australia, as well as direct flights to the US (Hawaii, Los Angeles, San Francisco), and to Brazil and Argentina directly and through Chile. The price varies significantly by season, and by Carrier. Air New Zealand offers the best service, but is not the most economical. For an example on trans-Pacific flights but you might pay US$1,700 versus US$1,300 for Virgin Australia. The same goes for accommodation options, so I will advise you to check out http://www.tourismnewzealand.com/ before you plan. Once you are in Auckland, there are daily flights to Wellington, and there is a strong Zouk community and a lively Zouk scene with social dancing opportunities on Thursday, Saturday, Sunday and Friday. Check out Zouk Aotearoa or NZouk on Facebook for more details.
Article
Writing and Photography by Danidu Wijekoon
Video
Video by Alejandro Davilla
Interviewer
Cornelia Mu interviews Saione Greer, Organizer of the New Zealand Salsa Congress about Zouk at the NZSC 2015
About: Danidu Wijekoon
You may also like...
Sorry - Comments are closed
Allan Z ft Ficci – Senses Overload (ft. Laura Hahn) Remix