Memoirs of My NYC Apartment: Casa do Zouk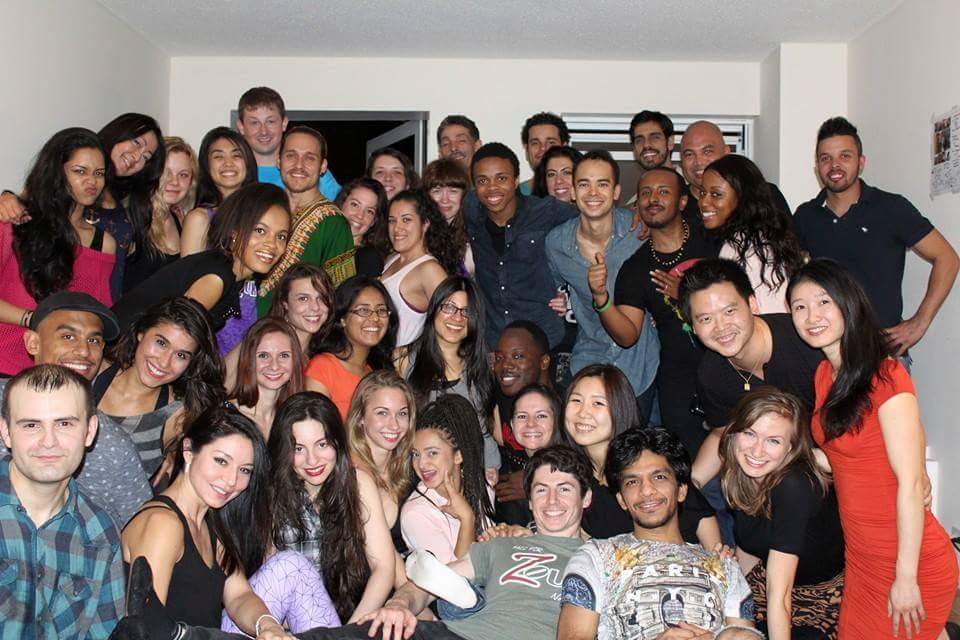 The first night it happened was right after the Brazil vs Columbia match. Or was it Costa Rica? Who cares. All I remembered was being caipirinha-infused, while we trotted onwards towards our still empty apartment on the Lower East Side of Manhattan.
No one cared how naked our livingroom was, because it was meant to remain that way to cater to our endless need for Zouk. With our livingroom-dancefloor and the most glorious view of the Brooklyn Bridge, our little apartment became one of the most frequented gathering places for the NY/NJ Zouk community.
I do not remember how many parties in total Mukesh and I hosted. Nor can I remember which ones I missed or which ones Mukesh was not at, but I do recall the distinct Zouk beats that brought everyone sock-skating into the living room, our beloved DJ James Power perched in the corner with his awesome playlist, the secrets us girls shared while taking tequila shots in the favorite hang-out spot of the house – the kitchen, MC Alex yelling for a group selfie in that cramped little space, and Aramis (our official bartender) serving out drinks. Also, that one time Joe stuck himself in the corner to chow down on sweets and dessert! It was always bring your own booze and no one cared what time your work day ended – as long as you made it to the festa!
I miss the Hello Kitty slippers that I prowled around the house and danced in (which everyone made fun of). I miss baking my famous pecan crackers for everyone while Mukesh made sure we always had pizzas brought in. I miss the endless ringing of the doorbell as people kept streaming in. I miss how genuinely happy the vibe was at each party. I already miss the beautiful view of the two bridges which made the perfect backdrop for our dancing and for the countless Zouk videos made by the river at night.
Sadly, I was absent from the 2015 New Year's party, but I could not stop hearing about how that was one of the most epic parties at Casa do Zouk. My favorite one was Halloween, where I had an awesome reprise dance to "Animals" with Kuna (the Zouk God) while everyone laughed and cheered us on! Zoukers were all decked out in impressive outfits and make up – it was truly incredible. Then, there was Chinese New Year, where I hosted my brother in New York for the first time. It really warmed my heart to see how my friends so readily made him feel instantly welcomed and part of this other family I belong to. Oh yes, they definitely tried to pass on the Zouk bug, which my brother did catch (to my surprise). Easter weekend this year was yet another highlight as we hosted our fellow Zoukers who came all the way from Boston and Washington DC just to party with us. It was almost like a mini congress! Everyone was always welcomed to crash on our leaking air mattresses, of course. In the morning there was either homemade pancakes or charging out for dim sum in Chinatown. Casa do Zouk was always the best place to be on 4th of July since we had a front row view of the spectacular NYC fireworks display. And when I had to be away one 4th of July, I was so touched that my amazing friends posted a birthday video on my Facebook wall from everyone who was at the house. Each party never fails to leave a mess that we dreaded to clean, but we would do it all over again, because it was always worth it.
Casa do Zouk had the utmost privilege to host plenty of Zouk superstars and significant events including Paulo Mac, who recently held a private mini-concert in our very own livingroom! During last year's Fall For Zouk, we had the honor of hosting K-yo and Renata who I had the most fun with filming a "how-to-make-a-caipirinha" tutorial video. When Zoukology launched the livestream of Dadinho's ZoukLive workshop in LA, Casa do Zouk was chosen as the host venue to connect the NYC community to the event via Skype. We also had the privilege of hosting the Ramalho family (whose family also opened their hearts and home to me when I visited them in Rio) and other Zouk icons such as Getulio Ramalho, Henri Velandia, and many others who made their way through Casa do Zouk just to dance with us! It was at one of our parties where we gave our beautiful unicorn, Jessica Lamdon, a surprise birthday celebration where her mother sent over a gorgeous custom-made cake. It was truly an honor to be part of so many memorable and treasured occasions.
Living in Manhattan was one dream I've fulfilled since moving to NYC three years ago. To be able to open up our home to friends and to create such everlasting memories in the hearts of many NYC Zoukers was yet another fulfilled dream. Thank you my dearest friends; the coolest, most awesome NYC Zoukers who graced us with your presence throughout these amazing years. Thank you Mukesh for being the best roommate ever… for sharing all my laughter, and especially tears, while making me dance through everything. Moving out was bittersweet, and being in NYC but not living in the Casa do Zouk just makes me feel so incomplete. Nevertheless, I am ever so grateful to have spent the most unforgettable last year in New York City with my Zouk family at 257 Clinton Street.
About: Karen Lee
You may also like...
Sorry - Comments are closed
Allan Z ft Ficci – Senses Overload (ft. Laura Hahn) Remix