Female Zouk Lead Teachers; Simply a Win-Win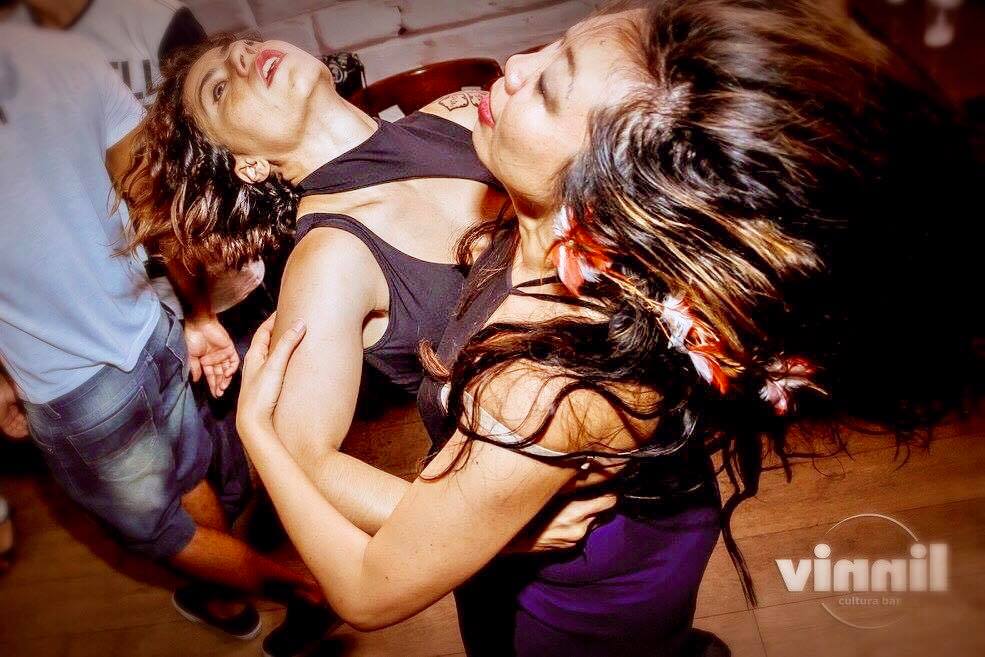 As a partner dance, Brazilian Zouk appears to be driven by the lead, who has historically been a male dancer. Today, of course, we have transcended these gender roles, especially in Zouk where the artistry in the lead and follow are equally fun to understand, execute and master. With interest in the dance growing in remote areas of the US with no previous Zouk scene, at times, female Zouk dancers have taken on the brave role of teaching the dance as a lead.  The difficulty for female Zouk teachers growing a scene is not lack of skill or confidence, but to be taken seriously as lead.
When I decided to move to the Big Island of Hawaii there was no Zouk and realized that if I wanted to continue to dance Zouk I had to learn how to lead so that I can nurture and develop good leads to dance with. Perhaps it may have seemed selfish at first, but it certainly motivated me to have high standards for my Zouk teaching.  As a woman, my teaching has been based on my experience as a follower, focusing on how a woman wants to feel when led, how to make transitions smooth, how women want to be touched, how they want their personal space and body respected.  Clearly hearing it from a woman directly makes it a more powerful message. So why is it that female Zouk lead teacher are undervalued or underappreciated at times?  Certainly the women who teach Zouk have much to offer and share with the Zouk community… so I decided to interview some leading female Zouk teacher in the USA and celebrate their accomplishments as part of women's month.
How do you think teaching Zouk as a female teacher changed the way you see or dance Zouk?

  Rachel Meth of Embodied Dance in NC: I am constantly learning both the lead and follow roles. I have learned that to lead, I must always be thinking, creating, and completely focused on every detail of my partner to lead him or her better. When I am following, I must surrender, try to soften while also remaining receptive and engaged, and try not to think as much as I do when I am leading so that I don't anticipate! Both of these skills have been very helpful in developing me as an overall dancer.

  Kimberly Loo  of Honolulu Zouk in Oahu, HI: It has been challenging learning both roles but has definitely enhanced my understanding of the dance and partner dance in general, to the point where I believe everyone should learn both roles if they want to get better at their primary role. 90% of the latin/partner dance classes I have been to have been taught by men, or they have been taught by a couple where the man does almost all of the talking and the woman barely has a voice. I have taken a few classes from some well balanced couples where each partner does about 50% of the teaching (Ben & Kiki, Aline & Charles), and from those couples, I have learned the most and the best. One person teaching both the lead and the follow perspective is not the ideal for a partner dance, but I've done my best and that's all I can do.

  Kendra Haynes of Zouk MIA in FL: Being an independent female teacher in a partner dance world completely transformed my view and outlook. We so often get caught up in gender and the traditional roles in lead and follow; the male always leads, and the female always follows. Studying and becoming a great lead as well has made me realize that these roles are completely different but also very complimentary. Partner dancing is a fantastic place to discover this. Each dance is only about 3 minutes. So committing to be a lead for this dance and a follow for the next dance really shows one's versatility. I believe every dancer should experience both roles and switch roles often as possible, as it's a great way to improve your technique in both aspects. Also, one cannot exist without the other, so it makes for a much more complete experience if you know the fundamentals of both leading and following.
  Hisako Izutsu from NYC LambaZouk USA: When I first started teaching, I was having trouble as a follow, because I dance as a leader. I didn't have much time to practice as a follower and realized this was affecting my skills. After I realized that fact, I started focusing on my own training as a follower. I additionally took Kizomba, Tango and Bachata lessons as a follower. Also when a foreign instructor came, I took private lessons as a follower. Now I am comfortable both sides, but it took more than 3 years to find a good balance.

   Nathalia Carbajal of Portland Zouk in OR:  Before I started teaching, I wouldn't worry too much about timing, musicality and all the technical details of the dance. As a follower, I would simply surrender, close my eyes and dance! Obviously, I would feel the different connections and styles, but I wouldn't know what the differences were, I would just feel them. Since I started teaching Zouk, I had to immerse myself in the leading side, which requires good timing, musicality, and good connection and technique. All the studies, preparation and practices changed my whole view about the dance.
What did you learn about teaching Zouk as a female teacher? 
Kimberly: When I first started I was ridiculed by some in the male-dominating mindset that there was no way I would ever succeed. There was no Zouk scene here in Honolulu and I was starting everything. I had taught, performed, and competed nationally and internationally in Salsa prior to Zouk, but that was with a lead partner who also literally took the lead on all of our projects and in our teaching. I would just interject a follower tidbit or two during our workshops because that was the model I had mostly seen and that was the amount of voice I felt I deserved. It wasn't until I fell in love with Zouk that I was driven to grow my voice. And it was crazy. People actually listened to me when I spoke. It has been quite a journey since then. There have always been those who want to shut me up or shut me down, but I am proud to say that nevertheless, I persisted. I am still here. And from January 2015 to now, we have grown into a female-led Zouk community.
Nathalia: I learned that, in general, when leads start learning Zouk, they don't know how to measure how much energy/connection they need to apply when executing a movement. It is common to barely feel the lead's signal to tilt our bodies to start a head movement, for example. Because of that, I noticed that the followers would get used to just backleading the movement instead of following and feeling the lead. I would see them dancing and things would look good, but then I would dance with them and it would feel disconnected; the leads would not lead me and the followers would not follow me. They weren't dancing together, they were just executing movement.
Rachel: Although at times it is challenging to teach without a partner, I very much enjoy teaching alone and rotating with my students throughout the class or having one of my veteran students assist me in the class. It's one thing to demo a move with a partner who already knows what you are doing, but if you can demo a move with a beginner dancer, you have to be incredibly clear and articulate, and this is one of the challenges that I welcome as a solo female teacher.
Kendra: Every day that I teach I learn that gender matters less and less to me. I almost never refer to the class and "ladies" and "men" anymore, which was my usual choice of words. I encourage my guys to take my follow classes, and my ladies to take leading classes, and always focus on showing that these are two roles that any gender should know how to do.
Hisako: I would like a leader to make followers feel comfortable, and I want my students to be a gentle leader, not to be a person to show off what he could do.
What are some of the advantages and challenges of being female lead teacher?
Hisako As an instructor, it doesn't matter male or female, we could go to the class without having a partner and be able to teach alone. Instructors have to have both knowledge as a leader and a follower to teach the technical side of the dance. When we want to teach artistic part of dance, yes, it is important to have regular partner and practice and show students how we could express ourselves though dance.
Nathalia: It can be challenging but not impossible. Having a partner makes it easier and quicker to demonstrate a movement. When you teach by yourself, you need to demonstrate the leads and followers body movement and steps one at a time, even if you have a student there to help. That takes more time because you are speaking and demonstrating body movement in name of 2 roles instead of 1. Then you must combine them and make sure that both leads and followers understand the movement.
Kendra: At first, I found this very challenging. I was thrown into teaching by myself, so I had to quickly think on my feet and figure out what to do. As I have developed my leading skills, I now very much enjoy the flexibility of being completely comfortable teaching on my own, and showing how this partner dance can be demonstrated with any partner, not just one you usually train with.
Kimberly: I have definitely improved as a follow after taking on a lead role, and improved as a dancer and as a person after taking on a teaching role.
Rachel: Some of the challenges of teaching without a partner are that it takes me much longer to prepare for a class since I have to fully understand and teach both lead and follow roles. Having a consistent partner would also make it easier to disseminate information to the class, as each of us could articulate each role and there would be two of us in the rotation to offer feedback. We can offer insight that is not always delivered from a male perspective, and most likely we have a great deal of experience as both a lead and follow. This allows us to empathize greatly with both roles, and provide first-hand authentic feedback for either role of the dance.
On having no consistent partner to train with:
Rachel: Sometimes my own training and development as a Zouk dancer takes a toll as I am constantly teaching and preparing lessons for class, whereas ideally, I would like to have a consistent partner with whom I could spend an equal amount of time training and developing my own dance. Without a consistent male (or female) partner, I don't always get to do that "cool demo" in class, but I love having the ability to rotate with all the new students who come to class and to demonstrate movements with them.
Nathalia: It is hard to grow a community when you don't have a partner, especially as a female teacher. People are visual, they want to see things. Without a partner, I can't show how Zouk looks when I am out in dance clubs to promote Zouk. I dance with my students when I want to promote Zouk, but it is not as effective as it would be if I was dancing with a partner that I would be constantly training with.
Kendra: The biggest challenge of teaching without a partner is not being able to showcase myself as a performer. I love performing, but solo dancing is not for me. The reason I love Brazilian Zouk is the beauty of the lead/follow connection and what that creates. I have been lucky enough to train 3 amazing Zouk Leads who I teach, travel and perform with whenever they are available, but sometimes I have to forego a show because I don't have a partner there with me.
Although these are only 5 of many extraordinary female Brazilian Zouk dance teachers, one can conclude that this challenging and gratifying teaching role  has not only helped each become a more compassionate and skilled instructor and dancer, but each of their experiences has been a positive journey of self-discovery that has empowered them with a voice that is heard, embraced and honored.  To conclude, Nathalia Carbajal summarizes it best:
Learning from a female lead gives to the leads a better understanding of how much energy/connection they need to apply when executing a movement, considering that the female teacher knows how it feels and can give a good feedback if the leading was good or needs improvements. For the followers, the advantage is even bigger because they can relate to the teacher's body movement, the teacher knows how the body feels and know how to explain and motivate the followers to perform the movement with confidence. It is definitely a win-win.
About: Marie Alonzo Snyder
You may also like...
Sorry - Comments are closed