Marie Alonzo Snyder's Impressions of Artistry in Zouk & Kizomba Choreography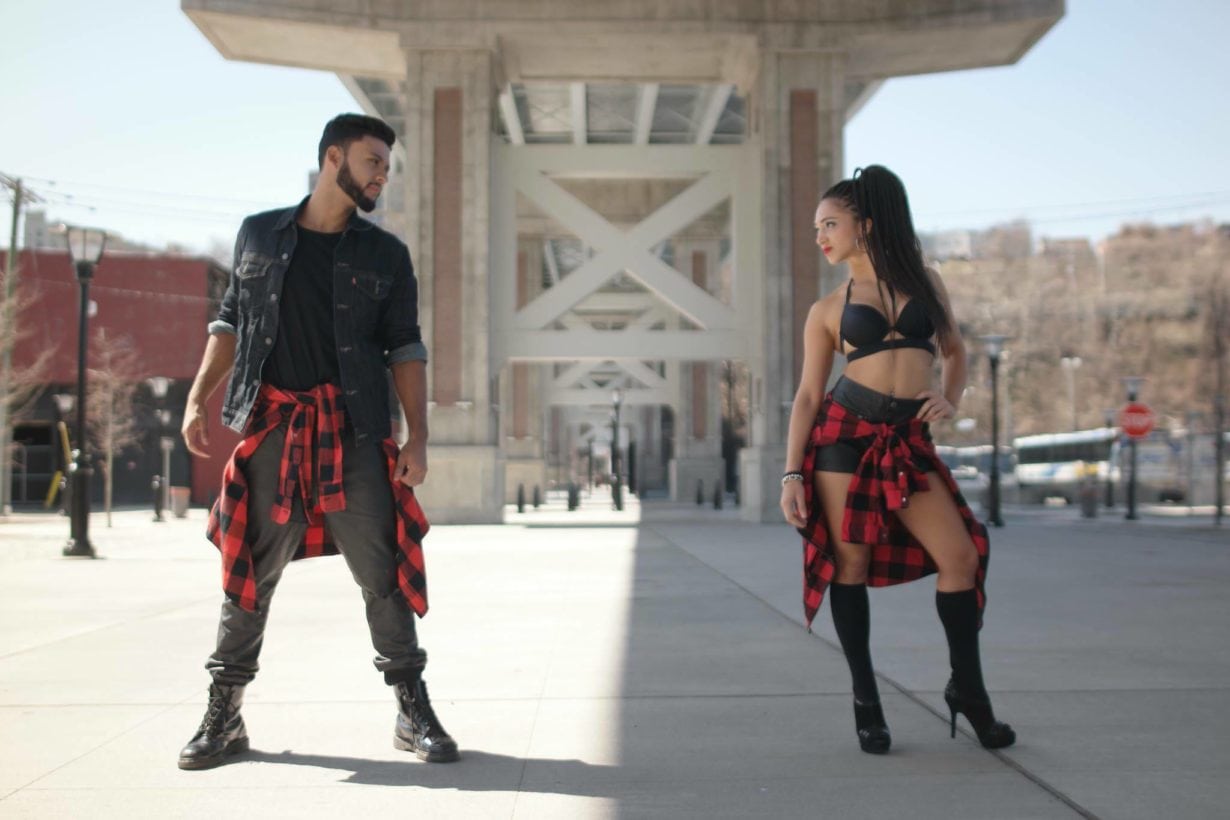 I was thrilled by the Saturday night performances at the 3rd LA Zouk Congress & Kizomba Immersion, where I witnessed astonishing international performers and carefully crafted choreography, leaving me (and I believe the whole audience) bowled over after each couple's riveting performance. As a choreographer, I find it challenging to choreograph a social dance, which is normally based on improvisation. Yet it seemed these seven couples were able to use the vocabulary, the nuances, the stylization and the technique of the dance to create magical moments that were just as compelling as any impromptu dance.  Indeed Saturday evening's shows presented dances that had all of those elements flawlessly woven together, taking Zouk and Kizomba performances, in my humble opinion, to a new level of artistry.
The program began with a stunning couple; Leo from Rio de Janeiro, Brazil and Becky Neves, representing New Zealand. The routine was strong with a captivating chemistry and connection between them, infused with enough fierceness and hotness to divert the viewer from their impeccable technique and athleticism. She tackled multiple fast spins while he managed to execute sequential lifts that took her from a toss, to a back flip and then into his arms, so effortlessly it seemed almost playful.  The dance ended with another seamless lift that continuously rotated her like a human pinwheel that gave me the illusion of a kaleidoscope of body shapes.
Kizomba was next, with another set of outstanding dancers; Manuel Dos Santos, from Canada, and Robbie Sky, from Texas. Throughout their performance, both dancers were engaging the audience with playful moments, which I interpreted as a reminder to have fun and not take things or the dancing so seriously. Both dancers showed their skills with what appeared to me as superb and accurate rhythm and timing, while adding a cheeky and humorous side to Kizomba.
Following were Carlos and Fernanda Da Silva representing Prague. Her captivating sweet smile seemed to camouflage what I believe, was quite a rigorous choreography, making every move look so effortless and graceful. With their charm and warm connection, they took me through a delicious journey of technical athleticism and seamless counterbalance promenades. Sprinkled here and there were also tender quiet moments to remind me that, in the end, the dance is about a passionate and romantic duet.
The next couple is Shani Mayer and Ivo Vieira, representing the West Coast, who I find to be creative Zouk visionaries. Her background in contemporary dance and Zouk, combined with his Kizomba and leading skills a resulted in a dance that calls for technical precision as well as athletic feats, and at times a dash of humor – like when her bottom became a drum he briefly played on!
What does one get when Zouk is fused with Hip Hop?  The answer is; the delicious duo, Aline and Charles, both from Brazil. While Charles appears comfortably shirtless (wearing only black pants), Aline is ravishing in a white half-buttoned shirt and shorts. I thought they fused their differing styles of dance so exquisitely to tell a passionate story of a strained and almost doomed relationship. The sharp moves and precise isolations were performed so powerfully showing a raw emotional quality. To me the ending was just as strong as they quickly attempt to rekindle what they had, and then to simply walk away appearing numb and defeated.
Chris Py and Elodie Catena are Kizomba 2014 world champions from France, and they indeed showed why they deserved such a title. Their dance to me showed a theatrical element of drama; starting in darkness, with a mysterious hooded faceless figure entering and swiftly disappearing, only to leave a chained man on stage.  The music changes, lights come up and a woman dressed in a sparkling white dress enters with clear intention to dance with the man, weaving her fluid body in and out of his chained arms.  Suddenly, she breaks the chain allowing him more freedom of movement, so much so that in the middle of their delicious and classy Kizomba moves, they do what I believe was the unthinkable. They part, and with a casual jump into the air he catches her neck between his inner thighs while she fearlessly, and with nonchalance, hinges back holding tightly onto his thighs, as he gracefully lands with solid footing.  The ending to me, was even more powerful as he takes his jacket off and stands facing upstage, and for a fleeting moment the image of Nelson Mandela is seen on his shirt.
The show ended with the final dance performed by Kadu Pires and Larissa Thayanne representing Australia.  I believe that if there were a Zouk version of the well-known Blue Bird pas de deux from the Sleeping Beauty's Act 3 ballet, this last dance would fit the role as she sparkled in a blue costume moving with rigorous precision, lightness and breadth. Not only did both performers dazzle with their strong stage presence and elegant connection, but to me, this particular dance gave them the opportunity to be tenderly expressive and emotionally vulnerable, while dancing to the sweet and peaceful ballad O (Hidden Track) by Coldplay. Their graceful transitions, were continually punctuated with daring breathtaking lifts and with perfectly executed and eloquent Zouk moves, which seemed to transform the ordinary into the extraordinary!
In my opinion, all seven couples had one thing in common; a palpable connection that was physical, emotional and musical. Each couple infused artistry into their dancing and choreography – taking Zouk and Kizomba to new levels, while creating magical, inspiring and memorable images now etched into my mind.
Tags AlineBeckyCarlosCharlesChris PyElodieFernandaIvokaduKizombaLarissaLeoManuelMarie Alonzo SnyderRobbieShanizouk
About: Marie Alonzo Snyder
You may also like...
Sorry - Comments are closed
Allan Z ft Ficci – Senses Overload (ft. Laura Hahn) Remix