Q & A with Cat & Rob: Winners of the Semi-Pro Competition @ the 2016 LA Zouk Congress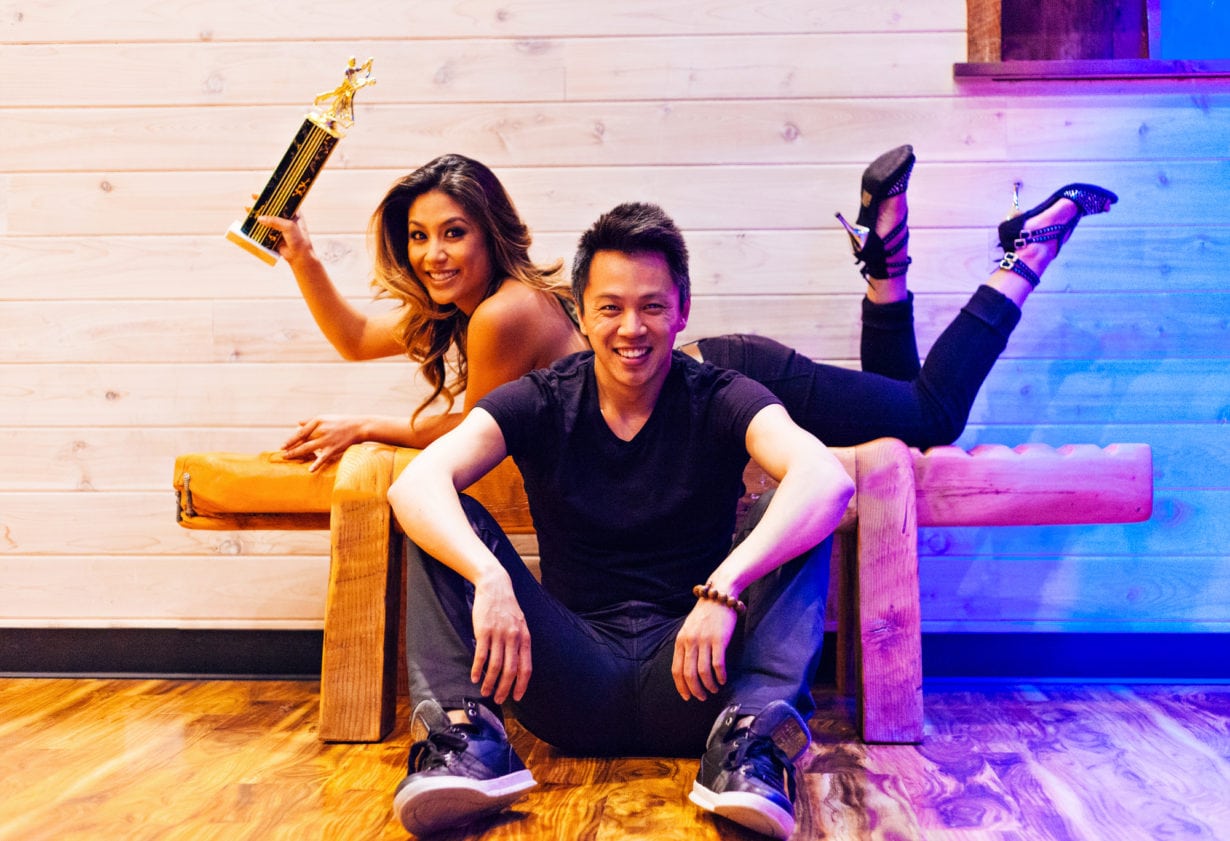 Zoukology caught up with the winners of the Semi-Pro Zouk competition at the 2016 LA Zouk Congress.
Tell us about how it felt when you won the semi-pro competition in LA?
Rob: Complete disbelief! So many great dancers – it was such an honor to compete alongside everyone. There was only 1 point that separated 1st and 2nd place and that's never happened before. It's a testament to the astounding growth of zouk. The first year I competed, Dadinho came up to us, grabbed our hands in a circle and said "don't see this as a competition but share with the judges your love for the dance and your hard work." Those words were so calming that I was thinking about it this year as well. It really helped me endure the difficult and inconvenient rehearsal schedule. At the same time I believe there's a lot of love of this art form which is why everyone is getting so good!
Cat: Shocked and amazed! This was my first time choreographing a piece like this with Rob, and nonetheless a competition piece! I really just wanted to create a piece to call my own and enjoy and have fun doing it. As they were calling names I was hoping to just place and we ended up taking first! Complete shock, and totally excited! So happy!
How long have the both of you been dancing zouk or dancing in general?
Rob: My dance background is in bboying and hip hop but I've also studied jazz, lyrical, contemporary and ballet. I was also an NBA dancer for the Sonics Dance Team – one of the only NBA teams to have male dancers. I've done salsa for about 2 years before I switched over to Zouk.
Cat: This is my 3rd year doing Zouk. I've tapped into a lot of dance within the past 10 years. I have a minor in dance which allowed me to tap into ballet, jazz, modern, lyrical, and contemporary. I mostly did hip hop and started partner dancing in salsa and bachata about 4 years ago.
How did you both meet?
Rob: Cat and I used to date years ago! I introduced her to zouk when she was contemplating joining a salsa or bachata dance company. I had to convince her that this small thing called zouk was going to be amazing. I'm glad she did.
Cat: Lol. Yes we dated years and years ago. We met through our dance scene when I was doing hip hop and jazz and all that. And stayed great friends and he did convince me to join the zouk scene when I was very into bachata at the time. Whew. So glad I did!
How long have you been partnered together?
Rob: Cat has never competed or taught. But we decided to partner together to practice our zouk and eventually it led to competing together this year. We competed at the Muckleshoot Dance Idol where we won 1st place as well. So we're 2-0 as a team, but who's counting ;). We teach our first class together next week!
Cat: Not for too long. It started in the Seattle Zouk Dance Festival last year where we partnered up for the strictly zouk competition, and since then we've been practicing in and out together.
How many times a week do you rehearse?
Rob: To prepare for the US Open, we practiced about 3 times a week. It was hell. We both have day jobs so it was always inconvenient. I think we spent half of those rehearsals fighting about how tired we were! We would practice at 8AM at times before work. And 10pm- midnight at times after work!
Cat: Yes. We practiced a lot – 3 times a week training hard. Any free time we had was dedicated to creating our piece. I had no time for anything. Creating this piece was my first priority. And yes. Lots of blood sweat and tears went into rehearsal. But we worked our butts off and it paid off.
What are your future plans?
Rob: My future plans are to continue sharing my love of zouk with the Seattle community, teaching classes, and preparing a performing team. I'm also learning to DJ this year so I can elevate our Zouk socials.
Cat: Continue Zouking. I plan to start teaching and sharing the love and passion that I have for Zouk.
Robert, I know you are one of the leaders in Seattle and that you teach regular classes. Can you tell us a bit about your class – where you teach, how long have you been teaching, etc?
Rob: Yes, I do teach Zouk in Seattle. Xtine and I brought Zouk to Seattle together after LA Zouk 1 and taught for about the first year as partners. By the 2nd year while she was travelling, I kept classes going and developing curriculum and new series. I implemented our 3 month Zouk Immersion program and pushed to have our new 6 month training program. So, altogether, we have a 1, 3, 6 and 12 month Zouk program!
Cat and I recently traveled to Porto Seguro and Rio De Janeiro this year and it's helped us connect with the dance from its roots and that has been amazing. It's one things to go through the mechanics of this dance, but being in Brazil helped me understand its spirit.
Is dancing your main career?
Cat: I am a makeup artist for Mac Cosmetics, which is my main career. Dancing has started as a hobby for me and developed to become a passion of mine and hopefully a second side career. Career comes first right now. It's the funds that pay for my dance currently.
Rob: My sister and I are 2nd generations nail salon owners. I am working to franchise our membership based nail art studio and hope to open a dozen stores in Washington over the next few years.
How do you juggle it all?
Cat: It's definitely tricky and exhausting. The studio, work, and where I live are about 40 min away from each other each. So we would meet up either before I go to work or after. But I always remind myself that nothing ever comes easy. If you want something or you want to be good at it you have to put in the work and work hard for it. So that helps me stay focused and motivated to practicing and dancing just makes me happy. So I do more of what makes me happy.
Rob: I think dance helps me stay motivated and helps me stay creative. Dance helps me stay balanced if anything.
Where will we be seeing you compete or perform next?
Rob: We were invited to Mexico, Cuba and LA next year so I'm sure you'll be seeing us a lot more! Save me a dance!
Cat: Good question. I would love to continue to compete and perform. We probably will perform at the Seattle Festival unless we get invited to perform somewhere sooner. But I love performing so hopefully we'll do more.
Photo Credit: Haley McLain
About: Jessica Carro
You may also like...
Sorry - Comments are closed
Allan Z ft Ficci – Senses Overload (ft. Laura Hahn) Remix