Teacher Spotlight: Meet Ilse & Carlos From the Netherlands!
Being based in NYC, my primary exposure to artists is within the US and Brazil, so I'm always eager to discover and gain new inspiration from the international talent pool; especially Europe where the quality of Zouk is on another level! A local NYC Zouker, Eric F, who spent time in Europe, recently showed me a YouTube video of Ilse and Carlos (Zouk instructors from the Netherlands) who helped pioneer a small Zouk scene in Luxembourg. One look at their "Zouk At The Lake" demo (linked above) and I was instantly drawn to their style. I became totally entranced by their connection, the flow of their movement and how they danced with such "heart" that I needed to see more! After watching a few more demos, I reached out to Ilse to see if she would be interested in letting Zoukology do a "teacher's spotlight" article on them and (lucky for us) they graciously obliged! Read below to see what I learned about this adorable and talented Zouk duo:
Foreward by Eric F:
I met Ilse and Carlos separately. Ilse at the Dutch Congress in Breda and Carlos at the Zouk M.E. Congress outside of Dubai. They both stood out to me as the best social dancers in the room and full of life and good vibes.  Next time I visited the Netherlands, Ilse was mentioning how lucky she was to have Carlos as a dance partner, and soon after, they outed themselves as a couple, with lots of lovey-dovey pictures of themselves on Facebook ever since.
As a group of us tried to jump start Zouk in Luxembourg and make sure that the scene had good fundamentals, I begged Ilse and Carlos to come down and help. They had only just started teaching earlier that year, but took the challenge very seriously. The classes were better than we could have hoped or expected, and helped build our groups fundamentals while keeping the class fun and entertaining. They helped cultivate the Luxembourg Zouk scene from scratch and now teach there regularly. Hopefully we can get them out to NYC soon!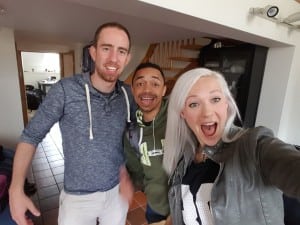 Where did you first learn Zouk and who are your influences and inspirations?
Ilse: We have both been dancing Zouk for about 4-5 years. I was first introduced to Zouk when I saw a video on YouTube of Leonardo & Layssa. The dance seemed so much more expressive and diverse than other dances I was looking into at the time, so I started taking classes at TotallyZouk. They took me in like family, and now Ruanita Santos is my teacher who believes in me and tells me I have the potential to be really good but also makes me work hard for it by being passionately critical.
I have also taken lots of workshops, and try to improve upon my dance with classes like Modern, Jazz, Ballet, Hip-hop and Pilates.
——"we decided that we would start this adventure together
and share our passion, positive attitude, and love for dance with
everybody. Also, we fell in love that year and we have been loving
and living together ever since."——
My inspirations: Music, dancers and dances.  All dancers are inspiring; not only does inspiration come from the teachers and professionals, but also people at parties that we dance with or see dancing. I can really sit and watch people dance for an hour and enjoy it very much.  When I have amazing dances, I want to take that with me. Besides enjoying that dance, I try to analyze why it was an amazing dance so we can later use it in our classes. And music always inspires me to move a certain way; it leads me in the emotions I express through dance, which sometimes is tricky because the leader might have a different idea about the dance. 😉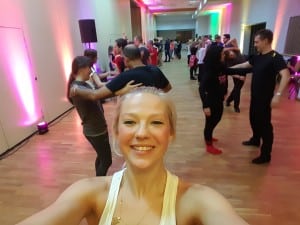 Carlos: I started at a dance school called Zouklovers and the person who has influenced me most has been DJ Nymf. Even though we dance completely different, he (for me) will always be my teacher. The way he taught me Zouk was perfect . Also, travelling to congresses and festivals for 40+ weekends per year has helped me to discover my own way of moving.
My biggest inspirations are (and will always be) the dancers in the Netherlands who, every weekend, inspire me to become better in every way, shape and form – especially the ones that I've known for years now.
——Dance wise, we focus on connection and fluidity
and have lots of fun dancing together."——
In what cities do you currently teach?
We primarily teach workshops in the Netherlands. Depending on our schedules, sometimes we teach every weekend or sometimes just once a month. Both of us have other jobs during the week, so at the moment we don't hold weekly classes, but we are hoping to eventually.
We also currently teach in Luxembourg, (thank you Eric Frawley for inviting us there and making us feel at home), we go there every month to teach a small group of Zoukers and we love the city as well as the community! We may start something similar with the people of Athens, Greece soon.
 How did you meet and become partners?
In dance of course! Hehe! At the end of 2013 we danced together at a party, and the feeling of connection was overwhelming; like floating! Cheesy, but true! We had never experienced this before.
In 2014 we started training more together to see if partnership was possible. After a few months we decided that we would start this adventure together and share our passion, positive attitude, and love for dance with everybody. Also, we fell in love that year and we have been loving and living together ever since.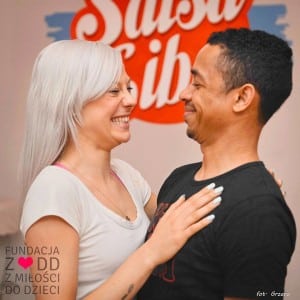 What is your Zouk philosophy?
Our philosophy is that EVERYONE can dance and we aim to teach them how in a safe, playful and educational way. We not only want you to have a great time during dance, but we want you to take whatever you've learned into your daily lives so to it will empower you as a person.
We emphasize:
Technique to safely execute movement without stressing the body; and
Fun by creating a playful atmosphere to increase the amount of information you can absorb, and feel your dance class is also a night out.
What are you best known for?
We think we are best known for having a lot a fun during our workshops/seminars, our openness during social dancing and our love for each other. We love to have fun during our workshops, while at the same time teaching people whatever techniques are trending on the international dance floor. We accomplish this by dancing with everyone on the dance floor, no exceptions! We love the social aspect of Brazilian Zouk because it makes a wide variety of people connect on so many different levels!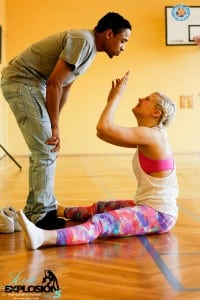 Dance wise, we focus on connection and fluidity and have lots of fun dancing together. Also we love getting ourselves in almost impossible positions and then getting ourselves out and making it look effortless! [Hahaha]
Do you have any travel/tour plans / performances coming up?
Yes, we just came back from 2 weekends in Poland and Greece, and after will come Germany, Holland, Spain, Greece and Luxembourg.  Travelling to teach is something that is on our monthly calendar. Even though we have limited time, we love it!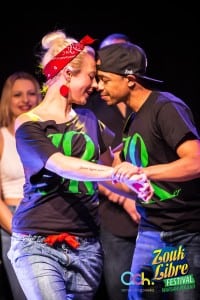 Tell us about Vibe Latina?
Ilse is in Vibe Latina together with Ruanita Santos. They organize all sorts of things that involve dance; Brazilian dance workshops, bootcamps, ladies styling, weekends with teachers and social parties. Our mission is inspiring people for life through the art of dancing.
Click above or below to see Ilse & Carlos's beautiful demo that made me an immediate fan!
Ilse & Carlos – Zouk At The Lake
… and for more information or to stay updated on Ilse Boerboom and Carlos Schorea, like their Facebook page below!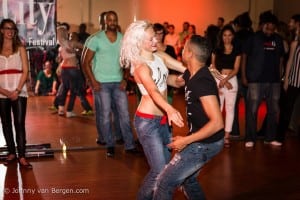 Video credit:
–Robbert van Weelderen–
Photo credit:
–Johnny van Bergen.com©–
–grzero–
–Ana Chagowska–
–Aleksandra Damek–
About: Danielle Marie
You may also like...
Sorry - Comments are closed
Allan Z ft Ficci – Senses Overload (ft. Laura Hahn) Remix