How Do We Connect?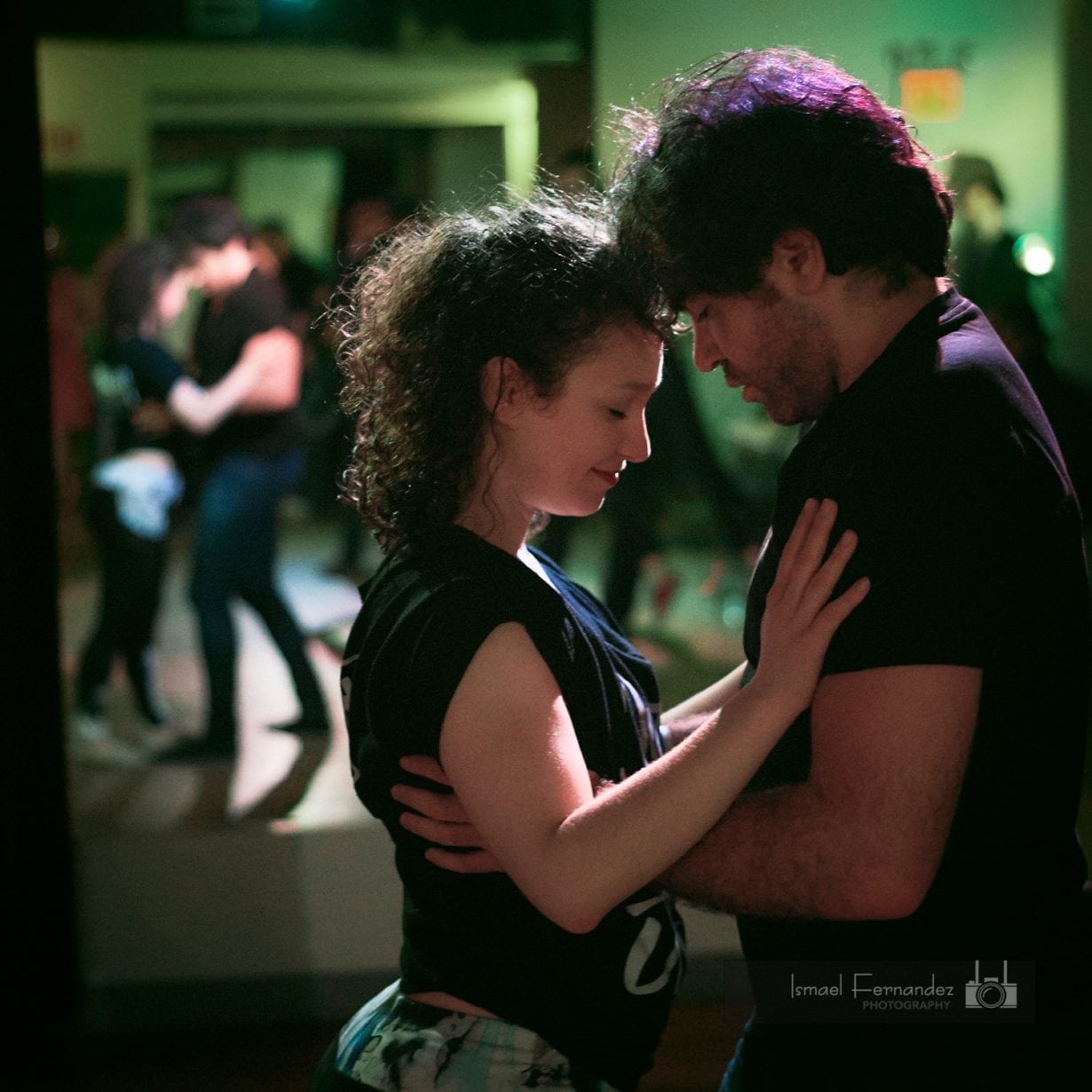 I am a very lucky gal when it comes to friends. The other day, I posted a question on my Facebook and engaged friends from all over the world and diverse circles of my life. I suppose this is one of the great things about the international nature both of my circles as well as social media.
The question was:
In Zouk specifically, who do you connect with first: yourself, your partner, the ground, or the music?
In this highly controlled scientific study with a participant pool of 45 (adjusts non-existent glasses), 40% answered self, 20% answered partner, 13% answered ground, 9% answered music, 11% outsmarted the reductive instructions and 3 people came up with their own answers. But as sassy as I think I am, I think it says a lot about our community that 40% of us (according to this highly controlled study) think we need to connect to ourselves before we connect with anyone or anything else. I knew Zouk was about more than thoom chik chik and Boston Market…
Digging a little deeper, it looks like we all need to go thank our DJs. Again if necessary. While many people expressed how they connect to themselves, their partners and the ground at the top of a dance, many of those same people expressed how a good song can inspire them to go seek out a partner just as much as a good partner can inspire them to seek out some space on the dance floor. Chris Van Houten (Illinois) described that moment as
"sometimes the music itself is so inspiring that the moment I hear it (especially a favorite song)– the physical response to the music is immediate and precedes [self/ground and partner]".
Although he does caution that those music-first dances can be disappointing if not balanced out with connecting to self and partner. Ariel Schwartz (Michigan) wrote that
"the music is the medium in which we communicate with our partner",
even though he still connects with self first. On the other hand, perhaps music isn't a stop along a linear sequence of events at all. Ania Pathak (Michigan) wrote
"I don't see self and music and environment as separate, so to assign it a chronology isn't accurate or descriptive of what I'm experiencing."
Perhaps the music is inspiring us to connect to ourselves, even though it may seem like it is inspiring us to seek connection with others. This makes me ask the question why is connecting with others a response to hearing music we love?
I was personally excited to see so many people connecting to the ground in their chronologies. Kris Leczek (Poland) wrote that his chronology is
"ground out of habit, myself when I enter the party, my partner for the first 1min of the dance but sometimes the first song, music is last".
For Marie Alonzo Snyder (Hawaii), the ground is still predicated on a connection to self.
"I think it is pointless to connect with partner, ground and music if you are not connected to yourself first… and because you are standing… ground… and then because it is a partner dance… your partner… and hopefully with those 3 in place music becomes a part of yourself, the ground and partner…".
Ben Sodenkamp (Arizona) described the moment you are about to or have just touched your partner at the beginning of a dance. His chronology is to feel who he is and where he is coming from, how he is stabilized and supported on his own, and what the music is saying or asking of him. Then when he physically connects to his partner he feels them, how they are stabilized and supported, what they are saying with their touch and how they are responding to the music. For Ebonie Lee, aka Firefly (Zouk Atlanta),
"as ground is a connection with self, I cycle between self and ground, add to this grounding circuit with my partner, then tune into our somatic inner rhythms, until I allow the gross rhythm of the music to inform our bodies' waveform."
Craig Graham (UK) has a somewhat different relationship with the floor.
"I don't consciously connect with the floor in zouk. Unless it goes wrong."
Connecting to self seems to be at the heart of everything, so much so that a dance might need both partners to be connected to self to be connected to each other. Greg Ory (Netherlands) wrote "I've found out that it is very important to connect with yourself first, otherwise your partner cannot connect properly with you." Eric Frawley (New York) wrote "I feel like it's hard to connect with your partner without connecting with yourself and vise versa." For him, music can facilitate both connection to partner and to self. Juarez Weiss (Malta) wrote "When both parts in a dance are connected to themselves, the dance can happen so beautifully". It makes me wonder what the baseline is for connecting with people. Does connecting to self have to happen before partner, even if music and ground can come earlier in the chronology?
Speaking for myself as someone trained in ballet and contemporary since the age of two, I always thought of concert (solo) dancing as connecting to self first then partner/ground (since for me in concert dance everything "not me" is a character or anthropomorphized) and partner dance as connecting to partner first, music and ground kind of alternate as for me music is more connected with expression and ground related to technique, and self last, if at all. Now I think of connecting to the ground simultaneously with my partner but I'm trying to come to terms with the idea that connecting to self before things not self is important to me in zouk. Music is a sort of constant. If I don't connect to the music sometimes I stop dancing because if I am not present I become a character (hopefully this will pass because it's somewhat inconvenient). Or perhaps music might be first as for me that's what defines a space (nice floors and party lights are great, but we dance on street corners when we hear zoukable music, so it's the music leading in that case).
I also think some of it may be related to intent. If I enter a dance saying "here I am let's see if this works" that's me first. But if I enter a dance — and this is easiest with a person you have never met — and I ask "who are you?" now it's more like dropping an ice cube into a glass of water. The intent is to become one thing but the how and when depends on the starting temperature of the water and ice (assuming the ice can have other stuff in it so the freezing point isn't constant). I usually turn down the volume of my voice for the first 2-3 songs so I can learn about who my partner is (speaking mostly as a follow here, as a lead I'm still working on this).
Lately I've been thinking if I wait to share who I am until a few songs in, I'm depriving my partner of the chance to get to know me. On the other hand, I like to see who my partner is and take a few songs to mould myself into the dancer I want to be with this person. I also like to play the game of "how can I inspire my partner to have the dance that I want at that moment. I learn a lot in the first few seconds of a dance and can share a lot of information, but right now I'm wondering whether I wait too long to share me. I'm thinking it's related to the question of who is "me" as a dancer. I think saying "versatility" is a cop-out, but I also love it.
If I want to be a "pure follow," maybe I don't need to worry so much about connecting to self. I can physically participate in the dance without connecting to self because I have so many other "selves" I can connect to. I mould myself to fit leads, music, moments, moods, and philosophical games I play with lead/follow dynamics. I can "give" memorable dances to people and not remember them (just as some dances I'll never forget might have flown by the people I shared them with). I watch people cry in my arms without feeling vulnerable myself. That last part is really scary and it makes me feel disingenuous. I don't have any defaults, no "Sydney", and I want more out of my dancing, so I'm challenging myself to figure that out.
In sum (and to avoid becoming part of the 11%), I want to connect with self first, even though right now it is the thing I am most working on. I want to connect with my partner second and ground as quickly as possible thereafter, as if I am a lighting rod. As for good music, it can inspire me to jump up and seek out a partner, but when dancing multiple songs it is the partner that carries you from one song to the next. Unless the next song happens to be both of our jams…
Original post on Facebook:
https://www.fb.com/sydney.schiff/posts/10101130369332602
About: Sydney Schiff
You may also like...
Sorry - Comments are closed