A Piece of Australia Comes to NYC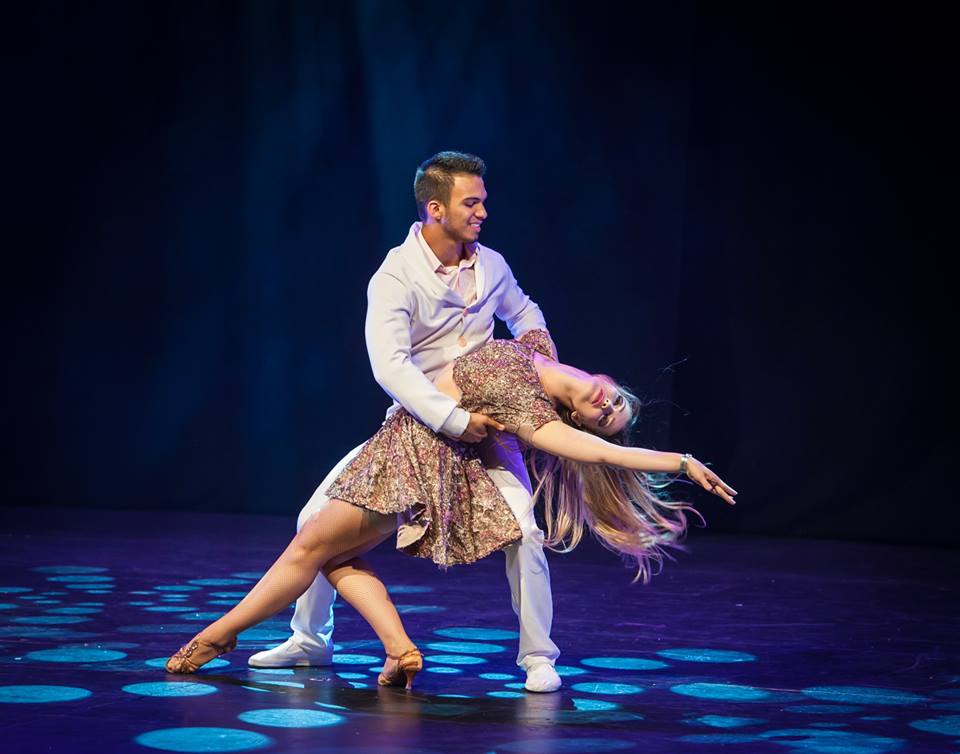 (texto abaixo em português)
Interview with Arthur Liebscher
How long have you been dancing zouk?
I started dance in 2007, at Academia Sport Dance, in Goiania – Brazil. There I learned how to dance zouk, salsa, samba de gafieria, bolero, soltinho, tango and forró. I remember in the same year Renata Peçanha went to my city to teach a Zouk Workshop. That's when I just fell in love with Zouk. However, shortly after, I moved to Mexico to study for a year, from 2008 to 2009. While there I became part of Paulina Posadas dance company called, MoreSalsa. I only started to focus mainly on Zouk in 2010. So, I have been dancing for seven years now, four of which have been focused just on Zouk.
When did you meet Layssa and how long have you been dancing together?
I met Layssa in March 2010 when she came to my city to teach a Zouk Workshop. She made me fall even more in love with Zouk and I decided to make it my living. We start dancing as professional dance partners in 2013.
When did you move to Australia? Was Zouk already popular there than?
We arrived in Australia on June 6th 2013 in Adelaide. Zouk already existed in certain cities like Perth and Brisbane, which are the most popular since they have good names representing Zouk there. Here in Adelaide it wasn't, a lot of people know about it but not many actually dance it. There aren't nearly as many people who dance Zouk as there are those who dance salsa. There us still no union amongst the two. However, more Zouk Congresses have been taking place in the last couple of years, which is great for the Zouk scene.
How would you say you have shaped the Zouk world in Australia? What influences did you bring (style, popularity, etc?)
Layssa and I have four main focuses when we teach: Technique, Safety, Fun and Fitness. We show people how to not just dance, but to make it a party of their life styles. We don't teach ours students to just do the steps. We give them the "tools" they need to be able to dance with anyone and everyone. We explain to them the importance of private lessons in order to improve quickly and we use the principles of Human Anatomy and Biomechanics along with basic principles of Pilates in our classes. We always tell our students that 80% of your dance has to do with your center (CORE) and your posture. The rest, 20%, is what we call dance steps. We use with more tools with our privates students, like blindfold, ankle weights, tape tension, barefoot felling, etc.
How many people (approximately) dance Zouk in Australia? Would you say the number has increased since you and Layssa have been working there?
That's quite a hard question to answer. I can't say for Australia in general, but I can tell you about Adelaide. When we first arrived here, the studio did not have Zouk Classes. So we started with classes once a week, three hours per day. We had about 45 students in our beginner class. Nowadays, we are doing two classes a week, three hours each day. Today you can see a lot more people dancing Zouk, sometimes even more than Salsa. So, it is safe to say that the number has increased.
How would you describe your style of dancing and what makes it different than other teachers?
I can say our style can be described as safe, comfortable and fun.
When I started dance I learned a lot of steps and different techniques but all of the information was mixed up in my head. I would think to myself, "Okay, so I can do the step, but why is it this way, or what makes it feel like this?" Unfortunately, no one was able to answer these questions for me since there was no one in my city who specialized in Zouk. I had to learn a lot things on my own, but I was able to develop drastically and discovered tools to improve my dance. I also invested a lot traveling to other cities to do congresses, classes, or just dance. I would analyze how the professional dancers moved, especially the male ones whom all of the ladies loved to dance with. Later, I decided to study Physical Education at a University. There I learn at lot about Human Anatomy, Biomechanics, Gymnastic and other disciplines. These are important tools I have learned, which I use in my dance and in my teaching methods. Every teacher has his or her own style. My friend and mentor, for example, Walmir de Souza, has his own special flair. I follow many of his philosophies. He has taught me a different way to see the dance world and how to work with it. I think that's what makes my routine of teaching different from the rest: the way I see the dance world and how I put all of my personal knowledge into my style of teaching and into the lives of my students. We always say to our students, "If you respect the dance, the dance will teach you to be a better person in your professional and personal lives, no matter what your job may be." Not to mention, having Layssa as my dance partner also makes all of the difference. I'd like to say she's the key to my success!
I see you have a dance school in Goiânia, where you are from. Is that school still in Open?
Yes I had a dance school, but I closed it just before we moved to Australia. Instead, I opened this small studio, where I have a limited number of students and where I am able to give attention to everybody.
Do you and Layssa have a dance school in Australia now or how do you go about teaching? How many days a week do you teach classes? Do you only teach Zouk or do you teach other dance classes as well.
No. Layssa and I are teaching at a beautiful studio called LATIN DANCE NATION. We are running classes there Mondays & Thursdays with Zouk on Fridays, Samba de Gafieira on Saturdays and Core, strengthening and Flexibility on Sundays. We also have a Zouk Student Team and we give private lessons about 10 to 12 a week. However, we are planning to open our own school in the future.
What do you like most about teaching and living in Australia? Do you two have future plans to move and work somewhere else?
What we like most about teaching here is the will the students have to learn. I've noticed that when you tell them they need to do a certain thing to improve their dance more, they actually do it. We have a good number of private's students and each month the number grows more and more. They come not just for improve their dance, but to change their dance life styles. We just love living in Australia! Of course we love Brasil and we miss our friends and families but it was the best decision for our personal and professional lives. We are able to do and have thing that we couldn't have done or had in Brasil. We are happy living here in Adelaide, Australia, so we aren't thinking moving to someplace else at the moment. We start traveling a lot now, so we are constantly in different places, but Adelaide, Australia is where we call home now.
I see you are both planning to be in New York in December and will be hosting a Workshop. Will this be your first time in NY or have you been here before?
Yes it will be! We are super excited to go to New York. It's going to be our first time there. Kim Rottier and Karen Lee are organizing the workshops.
Can you tell us what you are planning to teach us in the workshop?
Yes, of course. We are planning to work on the foundations of leading and following. We will also be introducing head movement techniques with different leads and motions as well as some body movements.
When will this workshop be?
The workshop will be December 5th at 7pm.
---
Entrevista com Arthur Liebscher
      Há quanto tempo você dança Zouk?
Eu comecei a dançar em 2007, na Academia Sport Dance, em Goiânia – Brasil. Lá eu aprendi: Zouk, salsa, samba de gafieira, bolero, soltinho, tango e forró. Eu me lembro que no mesmo ano Renata Peçanha veio para minha cidade dar  um Workshop de Zouk.  Foi quando eu me apaixonei pelo Zouk. Entretanto, eu fui para o México estudar durante um ano, de 2008 a 2009. Enquanto estava lá eu me tornei parte da companhia de dança da Paulina Posadas, chamada MoreSalsa (MaisSalsa). Eu só comecei a focar principalmente no Zouk em 2010. Então eu danço a sete anos, quatro dos quais tenho focado somente no Zouk.
      Quando você conheceu Layssa e há quanto tempo vocês dançam juntos?
Eu conheci Layssa em março de 2010 quando ela veio para minha cidade dar aula em em Workshop de Zouk. Ela fez com que eu me apaixonasse ainda mais por Zouk e eu decidi tornar o Zouk minha vida. Nós começamos a dançar profissionalmente como parceiros em 2013.
      Quando você se mudou para a Austrália? Lá o Zouk já era popular quando você se mudou para o país?
Chegamos na Austrália no dia 6 de junho de 2013 em Adelaide. O Zouk já existia em algumas cidades como Perth e Brisbane, onde é mais popular já que lá eles têm bons nomes representando o Zouk. Aqui em Adelaide não tinha muitas pessoas que sabiam sobre o Zouk, mas não muitas efetivamente dançavam. Lá não havia nem de perto a quantidade de pessoas que dançavam salsa. E não havia união entre os dois. Entretanto, muitos congressos de Zouk vêm surgindo nos últimos anos, o que é ótimo para o cenário do Zouk.
      Como você diria que moldou o Zouk na Austrália? Quais influências você trouxe (estilo, popularidade, etc?).
Eu e Layssa viemos com uma ferramenta principal para a nossa turma, que é a técnica, segurança, diversão e o trabalho físico.  Para fazer não só com que as pessoas dancem, mas para que elas tonem seu estilo de vida. Nós não ensinamos passos aos nossos alunos, nós damos a eles "ferramentas" que eles podem usar para dançar com qualquer pessoa. Nós explicamos a importância de fazer lições individuais e como eles podem evoluir rápido.  Nós usamos os princípios da Anatomia Humana e Biomecânica, princípios básicos do Pilates, 80% da sua dança são como você conduz o seu centro (eixo) sua postura, os 20% restantes são o que nós chamamos de passos de dança. Nós usamos mais ferramentas com nossos alunos individuais, como olhos vendados, pesos nos tornozelos, fita de tensão, sensação descalço, etc.
      Quantas pessoas (aproximadamente) dançam Zouk na Austrália? Você diria que o numero aumentou desde que você e Layssa estão trabalhando lá?
Hmm… Esta é uma pergunta um pouco difícil de responder. Eu não posso falar da Austrália, mas posso falar sobre Adelaide. Quando nós chegamos aqui, no estúdio em que estamos trabalhando, não havia turmas de Zouk. Então nós começamos com um dia por semana, 3 horas por dia. Nós tivemos aproximadamente 45 pessoas nas nossas turmas iniciantes.  Hoje em dia damos aula 2 dias, 3 horas cada dia. Na balada muitas pessoas estão dançando Zouk, às vezes mais do que Salsa. Então podemos dizer que o numero aumentou.
      Como você descreveria seu estilo de dança e o que o torna diferente dos outros?
Posso dizer que nosso estilo pode ser descrito como seguro, confortável e divertido. Quando eu comecei a dançar, eu aprendi um monte de passos e diferentes técnicas, mas toda a informação estava na minha cabeça. Eu pensava comigo mesmo: "Certo, então posso fazer o passo, mas porque é desse jeito, ou o que faz com que sinta desse jeito?". Infelizmente, ninguém era capaz de responder essas duvidas para mim, pois não havia ninguém na minha cidade que era especialista em Zouk. Eu tive que aprender um monte de coisas por mim mesmo, mas eu estava apto a me desenvolver drasticamente e descobrir ferramentas para melhorar minha dança.  Eu estudei o dançarino profissional, especialmente os masculinos que as mulheres adoram dançar. Mais tarde, decidi estudar Educação Física na Universidade. Lá eu aprendi muito sobre Anatomia Humana, Biomecânica, Ginastica e outras disciplinas. Estas foram ferramentas importantes que eu aprendi, das quais utilizei na minha dança e em meus métodos de ensino. Todo professor tem seu próprio estilo, por exemplo, meu amigo e mentor, Walmir de Souza, tem seu faro especial. Eu sigo muitas de suas filosofias de ensino. Ele me ensinou uma forma diferente de ver o mundo da dança e como trabalhar com ele. Acho que isso faz a minha rotina de ensino diferente do restante: o jeito como eu vejo o mundo da dança e como eu coloco todo o meu conhecimento pessoal e tudo o que eu aprendi no meu estilo de aula e na vida dos meus alunos. Nós sempre dizemos aos nossos alunos, "Se você respeita a dança, a dança te ensinará a ser uma pessoa melhor na sua vida pessoal e profissional, seja qual for o seu trabalho." Sem mencionar que, ter Layssa como minha parceira de dança faz toda a diferença. Eu diria que ela é a chave do meu sucesso!
      Eu vi que você tem uma escola de dança em Goiânia, de onde você é. Esta escola ainda está aberta?
Sim eu tenho uma escola de dança, mas eu fechei antes de me mudar para a Austrália. Em vez disso, abri um estúdio pequeno, onde eu tenho um numero limitado de alunos e onde eu sou capaz de dar atenção a todos.
      Você e a Layssa agora tem uma escola de dança na Austrália e como vocês vão dar aulas? Quantos dias na semana você dá aula? Você só ensina Zouk ou ensina outras danças também.
Não. Laysse e eu estamos dando aula em um belo estúdio chamado LATIN DANCE NATION (Nação de dança latina). Estamos planejando abrir nossa própria escola no futuro. Estamos dando aulas lá segundas e terças com Zouk nas sextas, Samba de Gafieira nos sábados e Postura, alongamento e flexibilidade nos sábados. Também temos um Time de Estudantes de Zouk e damos aulas particulares mais ou menos 10 ou 12 por semana.
      O que você gosta mais sobre dar aulas e viver na Austrália? Vocês dois tem planos futuros de se mudar ou trabalhar em outro lugar?
O que nós mais gostamos em dar aula aqui é a vontade que os alunos têm de aprender. Tenho notado que tudo que se diz para eles que eles devem fazer para melhorar sua dança eles realmente fazem. Nós temos um bom numero de alunos particulares que a cada mês cresce mais e mais, eles não vêm somente para melhorar sua dança, mas para mudar seus estilos de vida na dança. Nós amamos morar na Austrália! É claro que nós amamos o Brasil e sentimos falta de nossos amigos e familiares, mas esta foi a melhor decisão para nossas vidas pessoais e profissionais. Somos capazes de fazer e ter coisas que não pudemos ter no Brasil. Estamos felizes aqui em Adelaide, Austrália, então não estamos pensando em nos mudar para outro lugar no momento. Começamos a viajar muito agora, então estamos constantemente e m lugares diferentes, mas Adelaide, Austrália é o local que nós chamamos de lar.
  Vi que vocês dois estão planejando estar em Nova Iorque em dezembro e estarão dando um workshop. Será sua primeira vez em NY ou você já esteve lá antes?
Sim será a primeira vez. Estamos muito animados em ir para Nova Iorque. Será nossa primeira vez lá. Kim Rottier e Karen estão organizando os worshops.
  Você pode nos dizer o que estão planejando nos ensinar no workshop?
Sim, claro. Estamos planejando trabalhar nas bases de conduzir e seguir. Nós também iremos introduzir técnicas de movimento de cabeça com conduções diferentes e movimentos assim como deslocamentos corporais.
About: Jessica Carro
You may also like...
Sorry - Comments are closed
Allan Z ft Ficci – Senses Overload (ft. Laura Hahn) Remix