Danielle Marie Talks to Darius & Laura About the First Ever Canada Zouk Congress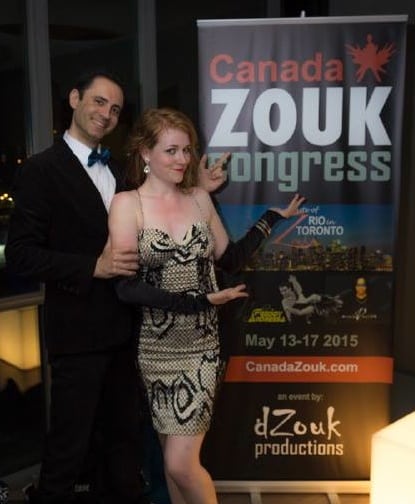 Dancing in the spray of Niagara Falls, "try-out" sessions for leveled workshops, a Zouk CIRCUS production??? I just HAD to speak with the organizers of the Canada Zouk Congress to find out more! I reached out to Darius Zi and Laura Riva and was blown away by their immediate and well-articulated responses. This is definitely one high-octane pair. Darius says, "we work around the clock," and judging by the energy and detail they put into this interview, I can only imagine the dynamism that is going into this congress! Here's what they had to say:
So I hear this will be the very FIRST Zouk congress in Toronto?
"Yes, the Canada Zouk Congress is Toronto's first official Zouk congress! The city has hosted a Zouk Exchange and also Zouk crossover events, but this will be the first full-out Zouk congress. It will run from May 13th-18th, 2015 and take place mainly at the majestic Kobayashi Hall at the Japanese Canadian Cultural Centre in Toronto."
How many people are expected to attend?
"We are expecting all of Toronto's large Zouk scene to be there, and so far we have people coming from all over! Hungary, Holland, London, France, Seattle, LA, Vancouver, Montreal, Chicago, Atlanta, New York, Boston, DC, Michigan, and Knoxville are just some of the places that are representing here. There are over 230 confirmed attendees on Facebook, and attendance is growing every day!"
Can you give us a brief run-down of the daily events you have lined up?
Wednesday:
"Wednesday kicks off the pre-party, which will be held in a space called Dovercourt House. This intimate and sultry space was the birthplace of Toronto's Zouk scene 5 years ago. Deep mood lighting, intimate couches, and amazing sound truly capture the 'Zouk vibe.' Some people even took to calling it the love lounge."
Thursday:
"We are calling this event the 'Secret Encounter.' It's a 4 hour party with your favorite Zouk stars in a gorgeous venue overlooking the scenic Toronto skyline. With only 50 tickets released, it gives die-hard Zoukers a chance to get up close and personal and get some serious dance time with the artists at the event."
Friday-Sunday:
"In addition to the amazing workshop line-up and the 6 hours of social dancing every night until 4am, we have very special shows and productions planned; "See Inside Me," North America's first full-length Zouk dance production that has moved its audiences and inspired the BLIND to DANCE and "Cirque du Zouk," the world's first Zouk circus, where you will witness acts of dance and acrobatics that will blow your mind."
Monday:
"We will be heading down to dance beside Niagara Falls on the Zouk party bus – complete with DJ gear and awesome ambiance. It's like riding in a limo, but with more Zouk content. It will be the first time Zoukers have danced in the magical mist of the 6th largest waterfall in the world!"
Who are some of your confirmed instructors so far?
"We have a huge teaching line-up, which means that the workshops and the social dancing are going to be incredible. Freddy & Andressa, Arkkanjo & Claudia, and Mafie Zouker are our main off-shore imports. From North America, we have Xtine, Marc, Kim Rottier, Jules & Melodie, Chris Van Houten, Sarah Zuccaro, and Inna & Edwin. We also are super lucky to have Toronto representing its 4 main Zouk schools and our brand-new Brazilian imports Thiciane and Ederson. We are also fortunate to have several teachers who are coming from out-of-town to enjoy the social dancing and learning experience. Claudia Van de Velde is the co-organizer of the world's largest Zouk congress in Breda, Holland. We are honored and extremely happy to have her teaching ZoukFlow with Arkkanjo at CZC. In addition, we recently confirmed K-yo from Brazil to teach SoulZouk as well as Igor from California to DJ! K-yo, is an amazing social dancer and incredibly wonderful person. There are a whole lot of Toronto Zoukers who remember K-yo from several years ago, and are super stoked that he's coming back for another round!"
And what about the music?
"The music, of course, will be epic with the tunes of ZNL's Mafie & Arkkanjo, and DJ's K-yo, Darius, Junyan, Jules, Smooth-ee and Igor. If you haven't experienced the ZNL boys' live Zouk music experience yet, I highly suggest you make it a point to get up here.  We also just confirmed DJ Lobby, who is one of our Vision Dancers and also the world's first blind Zouk DJ. We are very proud of him, and so is Mafie. In fact, it is Mafie who gave him his official DJ name, 'Lobby.'"
Tell us about "See Inside Me" and your own personal experience with near-blindness:
"Darius has a strong connection to the blind as he was diagnosed with a condition that could have robbed him of his own sight. After dealing with years of fear and uncertainty, his test results thankfully showed that the progress was slow to none. This experience is what first prompted him to work with the blind. We always find ways to incorporate this work into our major events. This year we will be showcasing the unforgettable "See Inside Me" dance production at CZC! It tells the story of a girl named Nikki who has to learn to live with blindness. The show also features performances by blind dancers and (thanks to Laura's extensive theatre training) a heavy dose of compelling storytelling, shadow acting, and theatre work. All proceeds raised by the production are used to directly fund the development and ongoing expenses related to Zouk programs for the blind."
What is Cirque du Zouk?
"Saturday will be the world premiere of Cirque du Zouk! We got our inspiration for the show from the Canadian-based world-renowned Cirque du Soleil. Cirque du Zouk has a cast of over 30 artists, Zoukers, professional-level cabaret dancers (crazy lifts), some sassy Burlesque and, of course, a signature storyline that will take you on a magical journey to a fairytale world. In addition, we are very happy to announce we have confirmed Milena Oksanen, an exquisite circus artist coming from FRANCE who will be part of the show! That was probably the biggest 'WOW' moment we had, to have such a prestigious artist coming in to work with the show!"
This is the first time I've seen AUDITIONS for workshop participants! Please explain this concept and what participants can expect:
"This is the first Zouk event that we know of to offer leveled workshops that audition for advanced and masters levels. Laura first grew attached to the idea after one too many event workshops appeared to suffer from having too many levels of dancer present. When that happens, no one is happy! The less experienced dancers are stressed with too-complex material and the high level dancers get bored.
Therefore, we decided to hold auditions (which are modeled after a common system used very successfully in European West Coast Swing events) so that dancers have the opportunity to learn skills at their own level. Here's how it works:
All full pass holders have guaranteed access to all intermediate and 'open' workshops. Participants are invited to 'try out' for the advanced or masters levels.
There will be two times to audition (no registration required), where dancers will have a random song and partner, and rotate a few times. It's very informal. The instructors on the 'assessment panel' will watch the dancing and give out the designations while the dancing is happening. Once a dancer is happy with their assigned level, they're good to go!
Of course, we recognize that not all dancers may look on the outside the way they feel, and sometimes we just don't have a good connection with one partner. So, we created 'petitions.' Basically, you can ask any of the judges on the panel for a personal assessment to see where you truly fit. The judge will then let you know what level you will get the best learning experience from. Technique is the primary focus of our workshops. In the 'Doing It Right' track (open level), we have designed a curriculum with the visiting instructors to move Zoukers through fundamental techniques. Have questions about head or body movement? Are your transitions a bit shaky, or your balance a bit off? This is the perfect track that allows dancers to target the skills they want to drill. Meanwhile, the 'Good to Great' (int+) track is taught solely by our top featured artists Freddy & Andressa, Mafie Zouker and Arkkanjo & Claudia. It gets further into deep Zouk technique and exposes Zoukers to Neo, Rio, and Flow Zouk styles."
Let's talk party THEMES!
"Naturally, we have to have a 'Brazil night' (that's Thursday). Laura is one of those people who loves to bust out a new outfit for an event, and Darius always wears his signature bowtie, so we figured we would have an open-ended elegant night for those who want to glam it up in style, so Friday is a 'dress to impress' theme. Sunday is 'Canada' (that would be red and white), which should be easy for all the Americans! Just get rid of the blue! Saturday is, for me, most exciting; 'Cirque du Zouk.' You can either go old-school carnival circus, Cirque du Soleil style, freak show chic, clown gear, or more. The crazier the better!"
Tell us about the venues you have chosen:
"Gorgeous on all fronts. This May weekend has a long-standing Toronto tradition of being the first truly beautiful weather. Warm but not too hot, sunshine, and the arrival of spring make that weekend perfect for a Canadian visit. Our hotel is called the Don Valley Hotel & Suites. It's beautiful, overlooks a fantastic ravine, and is a very short walk to the venue. Plus, it's on public transit, has a fantastic group rate and an area shuttle to take you around.
The event venue (Kobayashi Hall) has one of the nicest floors I've ever seen. We specifically sought out a sprung floor to save dancers' knees. Pain-free for a dance weekend sounds good to me. Not to mention, the size of the hall means you will always have somewhere to dance in workshops and during socials. Also, parking is free all weekend; even hotel-goers can leave their cars and walk between hotel and venue."
What are you most looking forward to?
"Honestly, the thing that we're most looking forward to is the opportunity to really create a magical learning experience and social dance environment. All the ingredients are lining up perfectly to really turn this into an immensely positive and bonding experience for participants. That, and Niagara Falls. I couldn't believe that the city actually gave us the permit to hijack a gorgeous outdoor spot for dancing! We're even planning on going behind the falls!
Also, with Mafie and Arkkanjo of ZNL as the head DJ's, you know the vibe will be insane. We are anticipating some very awesome social dancing (Toronto Zoukers have a habit of dancing to the very end). Plus, the earliest workshop is at noon. That means more sleep, and it is very likely that the teachers will stay out to play a little later!"
About the Organizers:
Darius Zi and Laura Riva are two of Toronto's most prominent teachers, promoters and organizers for Zouk. Both have also been involved behind-the-scenes in other dance events, and had a successful inaugural congress last year with "Vision Dance Encounter."
Darius Zi:
Darius lives in Toronto and is the founder and artistic director of dZouk Productions. Having danced salsa for 15 years and trained in multiple dance styles, his heart was captured by Zouk in 2009 when he first saw a stage performance at a salsa congress. With his partner Laura, he started the Zouk University Program and has several Zouk dance teams ranging from amateur to pro. He holds a degree in computer engineering, an MBA and completed several dance teacher-training programs. His main Zouk mentors are Kadu & Larissa and Mafie.
Laura Riva:
Laura lives between London and Toronto and runs dZouk Productions with Darius. Her skills in Zouk are a testament to Darius' teaching ability and her own passion. Laura has had the opportunity to train with Mafie and Kadu & Larissa to hone her skills. She has a degree in Theatre and English, and is finishing her J.D. in Law this April. She has also studied teaching methodologies and is a certified CSIA ski instructor. Her favorite dances are Zouk, west coast swing, and salsa.
For more information on the Canada Zouk Congress, visit their website at www.canadazouk.com/ and to see Jessica Carro's interview with Darius and Laura click the following link:
http://zoukology.com/darius-and-laura-interview-at-im-zouk-2015/
Tags arkkanjoCanada Zouk CongressCirque du ZoukCZCDarius ZiDJ LobbydzoukK-yoLaura RivaMafieSee Inside MeTorontoZNL
About: Danielle Marie
You may also like...
Sorry - Comments are closed
Allan Z ft Ficci – Senses Overload (ft. Laura Hahn) Remix