Award Nominees Kadu & Larissa Chat With Zoukology
In terms of talent, popularity and the effect they have on the Zouk community, they are Zouk's equivalent of Michael Jackson.
No glittering glove, but a glittering dress…
No moonwalk, but a Boneca…
Performances so powerful they literally bring the audience to tears of excitement? Yes!
It's no surprise that they are among the nominees in Zoukology's Artist Recognition Awards. So, despite being amidst a busy travelling schedule and having just touched down in LA, I was honoured to have Kadu & Larissa take some time to answer a few questions about their latest choreography, and on what it takes to do what they do and achieve what they have achieved.
After searching through remixes of popular songs that would inspire them create something completely different to their previous two routines, K & L had settled on two songs by Major Lazer and DJ Snake: 'Powerful' and the famous 'Lean on.'
"Firstly we found two songs that we both loved. Then we focused on choreographing a strong and sharp routine. It took us about 2 months before it was ready to present on stage."
Was there a theme?
"No" says Larissa. "We just follow the energy of the song as we like the audience to have their own interpretation."
The setting for the debut performance of this routine was the biggest Zouk congress in Australia, Casa Do Zouk held on the Gold Coast in July 2016. The performance got a standing ovation.
"The debut is always a big pressure," explains Larissa. "We decided to debut it at our own event "Casa do Zouk" in front of 500 zouk lovers. We got a great reception from the Zouk community and we are extremely happy with it!"
This latest routine by K &L has undoubtedly proven to be a crowd favourite, but where does it stack for the artists themselves? I asked Larissa if this was one of their favourites.
"This is one of the top ones for us so far. Every year we try to surpass previous choreographies; we try to be more creative with the whole package – the song, choreography, costume, as well as hair and make-up… and I think we definitely achieved that."
The latest K & L Zouk routine also includes a few Samba de Gafieira sequences which Larissa calls her favourite parts of the routine. "We love to mix and show a bit of our strength in Samba as well as Zouk. We also really like it when the song really kicks in and we can put all our energy into the Zouk sequences," Larissa explained.
When artists like K & L create, and perform a new choreography on stage or post it on YouTube, it creates so much inspiration, enjoyment and excitement for the Zouk community, stopping our hearts in awe for a few minutes. However, we often don't see and appreciate the work and commitment that goes on behind the scene to make it happen. I asked the couple for an insight into their work.
"When we are in the process of creating a routine, it takes around 4 hours a day, every day, for one month. Then we maintain our form by training around 16 hours per week until debut."
K & L list the things that make them a great team as respect, discipline, partnership, listening to each other and hard work. On hard work, Larissa highlights the rigorous training and fitness regime that helps the artists stay on top of their game, teaching, training and performing Zouk, Samba de Gafieira and West Zouk at festivals around the world as well as their school: K & L Dance.
"We try to be very careful with our bodies by watching what we eat and doing extra work to keep fit. We do an hour long stretch and warm up session before every training session, and train around two to four hours per day. We also spend one to two hours at the gym daily as well as spending a few hours studying/creating new sequences to teach at our dance school K&L Dance and at events around the world."
Next big plans
Kadu and Larissa are excited to being more involved in the blossoming US Zouk scene in the coming months.
"We will be basing ourselves in Los Angeles and will be spending some time travelling around the USA for the next 2 years, which we are very excited about as the Brazilian Zouk scene is growing fast in the US!  At the same time, we will be continuing work at our K&L Dance school, Casa do Zouk congress in Australia and continuing to be part of other congresses overseas."
Final quiz
What do you think is your biggest strength as a performer?
Larissa:
 "My ballet/contemporary background is an important advantage to our choreographies. Also, stage presence, creativity, flexibility and strength helps as well."
Kadu:
"Being the main choreographer, great musicality,  and unique ideas on building creative sequences."
How would you describe yourself in one phrase?
Kadu:
"The choreographer and party boy"
Larissa:
"The boss!"
What do you like and value most about each other?
"The dance and life experience we both have. We have been dancing together for 12 years which makes a huge difference to our work and we really value that."
****
Kadu & Larissa have been nominated by organizers globally for top performance in 2016.  Vote below for your favorite!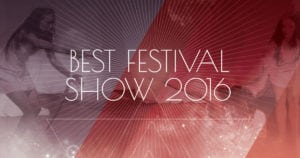 About: Danidu Wijekoon
You may also like...
Sorry - Comments are closed